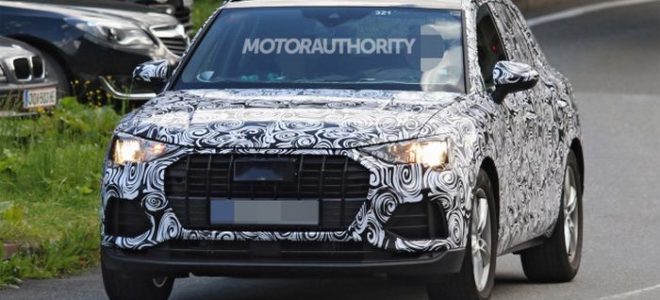 Audi engineers were spotted testing 2019 Audi Q3 in Finland a few days ago. The German carmaker was testing two types of this compact crossover. The first one was a more affordable model with halogen lights while the upscale version boasted LED headlights. Sign that Ingolstadt giant never sleeps lie in the fact that new 2019 Q3 was pictured in the company of other Audi models, including their premium A8. The exterior changes on this crossover will be minimal, and you can argue that Germans don't risk too much with the general shape of their models. But, regardless of that, the new Q3 is still under heavy wraps.
The parts of the car that will receive an upgrade are lights. Both those in front and those at the back have a new shape. And like we said what's in the clusters will also be different. It is evident that Audi doesn't plan to offer LED lights as part of the standard equipment.
With the next generation, Q3 won't be the smallest SUV in Audi's lineup. In order to make room for lower Q2, 2019 Audi Q3 will grow in size to differentiate itself from Q2. But, worry not despite an increase in size and wheelbase new Q3 won't be heavier that its predecessor. It will, in fact, be lighter thanks to the switch to MQB platform. As we said, there won't be game-changing exterior updates, but German manufacturer will more focus on the interior. Every new Audi vehicle offers a variety of tech upgrades, and the case will be the same with 2019 Audi Q3.
MQB platform means only one thing for power offerings of new Q3. This crossover will offer a 1.5 and 2.0-liter TSI gasoline units and more familiar 2.0-liter TDI powertrain. Also, hybrid and RS versions will be part of the Q3's bright future.
08/30/2017: The current Q3 is one of Audi's oldest models being around for more than 6 years at this point without any major changes. Well, it looks like it may be their next redesign, especially since they have just finished updating their other crossovers. So far these are just rumors but it looks like the future 2019 Audi Q3 will be the all new car everyone is expecting. Like before, the car will remain based on VW's front wheel drive platform. However, this time around there are going to be quite a few more differences between it and the rest of Audi's lineup. Why? Well, Audi now has the Q2 which is roughly the same size as the Q3 but it features more kit for less money. The upcoming model is expected to be a brand new premium product with far more technology than its predecessor.
2019 Audi Q3 Redesign
As we said above, the car is definitely going to be based on VW's MQB modular architecture. This means it will continue to share most of its architecture with the Tiguan and also with its smaller sibling, the Q2. However, unlike the Q2, which is basically a hatchback on stilts, the Q3 will feature a vastly different design. The car will be taller, longer and wider as well. There should be more room inside the cabin and it will be far more similar to a real SUV than its sibling.
Even though this usually means it won't be as good on the road, it shouldn't be true for the Q3. Not that long ago it has been suggested the car will get a new running gear which will assure it will be just as good on the road as any of its more expensive counterparts. On top of that, with this model Audi is expected to release a couple of high performance versions but more on that later.
Price & Release date of 2019 Audi Q3
Despite calling this a redesign, the changes on Q3 won't be all that severe. It is Audi's politics to stay loyal to its core design which is changing very little through the years, which is, of course, a good thing. Nevertheless, the changes are happening, and Audi wants to do a good job with Q3 considering that it hasn't been changed for years. To be precise, it has been six years since its last major revamp. With all of this said, we can expect new 2019 Q3 in mid-2018 as 2019 MY. If you want to buy one, you will have to wait until the third quarter of following year.
The 2019 Audi Q3 price will be increased compared to what's currently available. The entry level of 2017 MY (Premium trim) is $33,000 while on the high end of the plate we have AWD Prestige which is priced at $42,000. The upscale will imminently happen, and it will be dispersed across the trims in an amount more than $500 to $1,000.
The exterior design
One of the most important aspects of the 2019 Audi Q3 will be the way it looks. Even though this may seem trivial, it is very important for a premium car like it. For now there aren't any official pictures available but even so, we can safely assume it will have more in common with the Q7 than with the Q2. Expect the new Q3 to offer the bulky design of its predecessor but instead of the large front grille, expect a more angular front end with the same hexagonal grille as the A8. The headlights are expected to be slimmer and slightly swept back while the rear of the car will closely mirror that of its predecessor. The full-size doors that close over the side-sills are also going to be a feature in order to protect its passengers from dirt.
Inside the cabin – 2019 Q3 Interior
While the Q2 is basically identical to the A3, the upcoming 2019 Audi Q3 won't be. This is both good and bad. It looks like the car will be quite a bit taller than the other two models, so it will have to boast a different dashboard. Most rumors suggested the car will feature a similar layout to the Tiguan. The main differences will be the materials, the AC vents and likely the instrument cluster. Even though not official, it looks like the Q3 will also feature four-seats versions which will be aimed at those looking for a really sporty crossover.
Under the hood – Audi Q3 2019 Specs
Not much will change for the regular models of the 2019 Audi Q3. The base model is likely going to feature a 1.5 liter TSI engine with around 150 horsepower and over 190 lb-ft of torque. The higher end versions, including the base US model, will get Audi's 2.0 liter TSI engine offering between 190 and over 250 horsepower. Both of these will be available with front or all wheel drive and both of them are expected with an automatic gearbox.
A manual is only going to be available on the most basic trim levels which is a shame. A 2.0 liter diesel with up to 240 horsepower is also a real possibility even though it hasn't been confirmed just yet. Like we said above, a Q3 S and an RS are expected. These are likely going to offer between 300 and 400 horsepower while having roughly the same level of performance as Audi's range-topping S3 and RS3 hatchbacks.