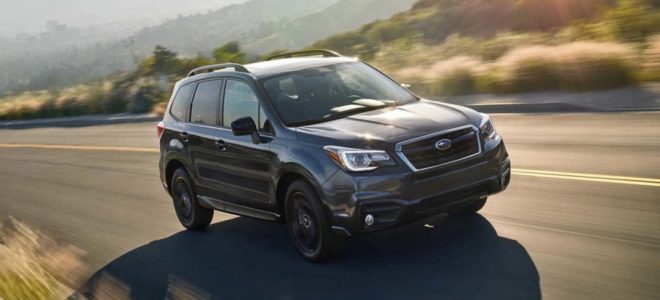 05/21/2017 UPDATE: You can say many things about Subaru, but not that they are lazy. This year they gave significant updates to the vehicles such as Crosstrek, Legacy, and Outback. The last model from their lineup that received some tweaks is 2018 Subaru Forester. To give you good news at the beginning, they have added Black Edition package to the mix which brings more good stuff concerning styling and technology.
If you opt for Touring trim the thing that will you like the most is Subaru's EyeSight Driver Assistance. This feature now comes as a standard piece of equipment. The named system also comes with high beam assist and reverse auto braking. Both of these features are a great edition to Forester. Also, 2.0XT turbocharged engine on Touring trim comes with Active Torque Vectoring. This system affects front wheels and improves car handling while moving trough corners.
The addition of Black Edition is good news from the Japanese company, but it comes at a price. With this particular edition, the price goes up for $1,150. Also, it is important to know that it is available only in Premium trim. In addition, it comes in a pair with a 2.5-liter naturally aspirated flat-four unit. The transmission offered with this powertrain is only CVT. If you are wondering what comes black in Black Edition of 2018 Subaru Forester, here it is. The pieces of equipment painted in black color are mirror caps, badges, the center of the grille, fog light trim, and 18-inch wheels. With this specific edition, you also have exclusive LED headlights that are responsive to the steering. Other available colors on 2018 Forester are Crystal Black Silica, Dark Gray Metallic, Crystal White Pearl, and Ice Silver Metallic.
Inside the cabin of 2018 Subaru Forester, there are as you can guess more and more black details. Entire upholstery is clothed in black, faux-leather bolsters included. The interior also comes with silver metallic trim and center stack painted in gloss black. Silver details also got to the stitches on steering wheel and gearshift. On turbocharged models, you will get six-speed paddle shifters. From other important features on the inside, you have heated front seats, heated mirrors, and a windshield wiper de-icer. All of this is standard on Black Edition 2018 Forester.
The place where you won't find any changes is under the bonnet. Engine offerings stay the same, and it consists of following. A 2.5-liter four-cylinder with 170hp and a 2.0-liter four-cylinder turbocharged unit available with 250hp. The transmission which comes with this powerplants is a six-speed manual on base and Premium trims and a CVT which is optional for trims mentioned above, but it comes as a standard on Limited and Touring.
The release date of 2018 Subaru Forester is set for the summer months of this year. Regarding the price, it comes as you can see it bellow. A 2.5i engine with six-speed manual costs $23,710; same base option but with CVT comes at $24,710. Premium trim with 2.5i unit comes at $26,610 when mated to a manual transmission, and at $27,110 with automatic. Limited starts at $30,310 for manual version while CVT costs $34,005. The last option is Premium and Touring but with 2.0-liter engines and CVT. First one starts at $30,410 and the later on at $37,005.
05/04/2017 UPDATE: The ongoing version of Forester SUV has been around since 2012. The model is in its fourth generation and now the time has come for this vehicle to leap into the fifth. The Japanese automaker is already working on bringing to life 2018 Subaru Forester. These claims have been confirmed with a couple of spy photos that were taken in Japan, and represent new Forester which is being tested while using old chassis.
The pictures in question came from Japanese Twitter account, and user claims that he had taken the photos in on the streets of one of the Japan's cities. From the pictures, we can clearly see that the body belongs top 2017 MY but with one small glimpse of the interior we can say that it looks somehow similar to the new Impreza. Remember that Impreza was the first model that transferred onto Subaru's Global Platform while Forester still waits for this transition. The new platform will undoubtedly influence the rigidity of the both body and chassis; it will increase the in-cabin comfort and also reduce the NVH factors. Regarding the design, sources claim that the next-gen Forester was previewed by Subaru Viziv Concept and that 2018 Forester is going to take design cues from it.
2018 Subaru Forester Release date
With these spy photos acquired, we can say that new Forester is only entering its redesign phase. That means that our earlier claims that were suggesting that 2018 Subaru Forester release date is going to be set in 2017 were false. It is almost half of the year behind us, and no test mules of next-gen Forester were spotted. This means that Subaru is taking its sweet time with this vehicle. The initial introduction might happen this year, but that possibility is now sitting on a rocky chair. More likely we will see 2018 Forester at the beginning of 2018. The early release next year could change the MY year for this SUV. That's why there is a possibility that new Forester is going to come as 2019 rather than 2018 MY. This remains to be seen but expect this model in the dealerships in early summer moths of the upcoming year.
2018 Forester Redesign
01/13/2017 Review: The ongoing Forester has been launched back in 2012 but its platform dates back in the late '90s. There are parts from the latest model that perfectly fit the first generation of the car. This shows how much money and time Subaru invested in their platform to make it as good as it is today. However, it is not perfect and because of that they released the new modular chassis a few months ago on the latest Impreza. This platform is set to underpin all of their cars in the near future and this is also the case with the 2018 Subaru Forester. Even though Subaru hasn't officially confirmed it, this is going to happen by the end of 2017. With the new Forester, Subaru is also going to release a seven seats version, most likely under the Ascent badge.
The current Forester has a curb weight of around 3,500 pounds which is not that much. The new 2018 model will be even lighter. Early rumors suggest around 100 pounds lighter which is quite impressive considering the current car. Despite being lighter though, the new model will be considerably stiffer than before and it will have a 1 to 2 inches lower center of gravity. The latter will allow the boxy Forester to drive just like the Impreza which is not an easy feat for a tall crossover. The car is expected to cost roughly the same as before which means a base model will cost right around $23,000.
New Forester Design – Inside and Out
One of the less impressive things about the current model is the way it looks. The car seems to be taken straight out of the early 2000s and that hurt its sales numbers quite a bit. The upcoming 2018 Subaru Forester will more than likely change all of that. How? Well, Subaru seems to be planning a brand new brand look which will be seen on all of their cars. One of the first to receive it is the new Impreza. The grille will likely be wider and feature a honeycomb mesh, the headlights will be slimmer and the boat-like bumper is going to be gone. All of these will make for a more modern and aggressive look which is what the current market is looking for. The car will also likely get a slightly longer wheelbase and it will be wider too.
Even though nothing has been revealed about the interior of the 2018 Subaru Forester, it is safe to assume it will get roughly the same dashboard as the new Impreza. This is not that bad considering what the Impreza gets. There will be an all new infotainment system, a better driving position than before as well as noticeably better materials. All of these will finally give its buyers an experience that will be comparable to that of its rivals.
Under the hood of new Forester
Expect the 2018 Forester to feature the new FB and FA generation engines. The base car will likely get a 2.5 liter naturally aspirated flat-four with up to 180 horsepower and 180 lb-ft of torque. Further up the range, the XT model will basically get the same powertrain that can be found in the WRX. This engine will likely make closer to 270 horsepower and well over that in torque. With it, the new Forester should be able to compete with the likes of the new Tucson or the upcoming Escape. Unfortunately, the CVT gearbox is here to stay so the 2018 model is not going to change here. Luckily though, a six speed manual gearbox is expected to be offered on some models which would be similar to that in the WRX. This would improve the driving experience greatly and it would give it an edge over its rivals.