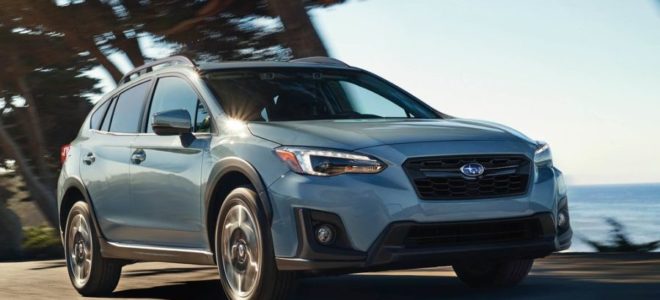 04/11/2017 UPDATE: When Impreza hatchback was released last year, we all knew that next in line to be upgraded is Subaru Crosstrek. Why? Well, this crossover is loosely based on Impreza so every treatment that Subaru's hatchback receives gets received by Crosstrek too. It's been few months since Impreza debuted and the time has come for us to see 2018 Subaru Crosstrek. It was first introduced at Geneva Motor Show, and now it will be shown at 2017 New York Auto Show.
The upgrade that Crosstrek received is the first major update on this model since it was first presented back in 2012. Despite the fact that we call this an update this model is not all that different from the last model, and even less so from ongoing Impreza. Indeed it represents crossover so its a bit taller than its hatchback counterpart, and in addition to that it has some more body cladding around wheels, and on the lower parts of the front end but that would be all. On the good side it lost some of its boxy design and now has more curvy lines. Also, Japanese company introduced set of new colors from which the 'cool gray khaki' stands out. This color actually represents what Subaru stands for more than you can imagine.
Moving onto the interior, you will find changes but not too much and nothing breathtaking. The layout is familiar, with a central-oriented dashboard which in the middle features large 8-inch touchscreen system. The sign that Subaru didn't go all-out with the interior redesign is a lot of psychical switches that surround the touchscreen display. The steering wheel and electronic parking brake are all-new and together with newly introduced orange stitching details close up the cabin.
The 2018 Crosstrek crossover is built on Subaru's all new Global platform. As you already know this platform debuted with 2017 Impreza and it will underpin all of the future Subaru models. The Tokyo-based company claims that this platform improves handling, rigidity, NVH factors and lowers the body roll down by 50 percent in comparison to the outgoing model. The standard traits that come with almost every Subaru vehicle are all-wheel drive which is now equipped with X-Mode which optimizes car behavior and traction on slippery surfaces. In addition, you also have Hill Descent Control which will be useful in rugged off-road conditions.
2018 Subaru Crosstrek comes with 2.0-liter for-cylinder Boxer engine which is also available on 2017 Impreza. The outputs are also similar to those of its hatchback sibling, and they go from 152hp for US Specs Crosstrek and 154 horsepower for a European one. As far as the transmission goes you will have both manual and CVT. There is an option of manually going trough CVT, and this will give you a 'seven-shift' feel. Regular manual transmission comes with six speeds.
On the safety side, you will find a ton of options such as EyeSight which include adaptive cruise control, autonomous emergency braking and lane-keep assist. In addition to this, you have bonus equipment in the form of blind spot monitoring and headlights beam that moves in the direction of your steering wheel. Also, the tire pressure monitor is a new gadget, and it shows you pressure in each tire individually.
2018 Subaru Crosstrek XV Release date
2018 Subaru Crosstrek has its debut in just a few days at 2017 New York Auto Show. The sales will start on a later date this year.
2018 Subaru Crosstrek at Geneva Motor Show
01/20/2017 Review: The Crosstrek is a small crossover that is actually a slightly higher off-the-ground Impreza hatchback. However, not that the Impreza has been fully updated, the 2017 Crosstrek became a rather obsolete model. This is because it still uses the same platform as before and its interior is nothing to write home about. Things are about to change though. Not that long ago the 2018 Subaru Crosstrek XV concept has been showcased which offers massive improvements over the current car. The production model is expected to be released in the second half of 2017 and the car should become available for sale shortly after that. Like the Impreza, the new XV will get to use the new platform, it will get a new design inside and out and a much nicer overall experience.
Subaru's new modular platform is expected to underpin all of their future models by 2023. The new Crosstrek would be the second car after the Impreza and it should be followed shortly by the Forester. Even though Subaru has not released much about it, the upgrades are quite clear if we take a look at the new Impreza. Even though the Crosstrek does feature a taller suspension with a different setup, it will still get all the benefit of the new car. This means it will get a much lower center of gravity which will help with the overall driving experience. On top of that, the new chassis is significantly stiffer than the one before it and lighter too. This will help the 2018 Subaru Crosstrek which will more than likely lack a powerful engine which is also the case with the current model. The price, which currently sits at $22,500, is expected to remain roughly the same. However, Subaru might add more expensive versions after release in order to cover a much larger part of the market.
The current car is nothing more than an older generation Impreza which has some black cladding on the sides and a taller suspension. Because of that there should be no surprise that the new model will basically be the same as before. However, it will boast a longer wheelbase, it will be wider and slightly taller. With that, the new Crosstrek should be able to offer more interior space without sacrificing the looks as the overall proportions will be the same. While most of the car will be mostly identical to the Impreza hatchback, the front end will take a different route. This became clear from the original concept showcased around a year back. In fact, some rumors ever suggested Subaru may turn to the WRX and STI in order to give the 2018 Subaru Crosstrek a more aggressive character than before.
One of the main reasons to buy a crossover is to get more room than its equivalent sedan, or hatchback in this case. This is not exactly true for the Crosstrek though. Because it will boast roughly the same size as the Impreza it also means it will get the same interior. However, this is not that bad. The new Impreza features quite a bit more room for the rear passengers, much nicer seats than before and better overall build quality and materials. The new XV will benefit from all of these and a few extras. The car is expected to get better seats in the front, an overall better equipment level and even a few features that the Impreza does not get such as off-road specific modes and possibly a semi-autonomous system.
One of the largest problems with the current model was the 2 liter engine with its 148 horsepower. Luckily, the 2018 Subaru Crosstrek will receive an updated version of the FB20 unit found in the current generation. Unfortunately though, it will still make just 152 horsepower and 145 lb-ft of torque which is mildly better. The best part about it will be the rather good CVT gearbox and standard all wheel drive system. A manual has not been confirmed but even if it will get one, the 5 speed in the new Impreza is nothing too amazing. Some people did also suggest at a new hybrid. Subaru did not say a word so far but this might be true considering the current trend.