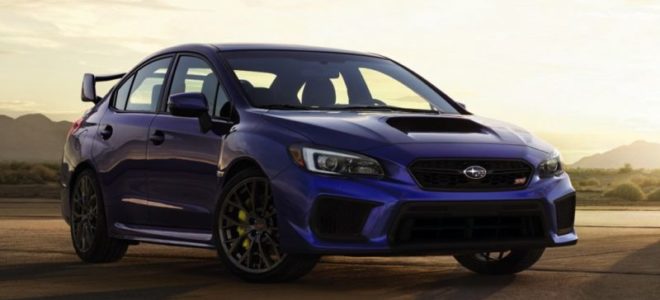 01/11/2017 UPDATE: Subaru started updating its models, but it seems that it's going one at a time. Impreza had redesign a couple of months ago, and it signaled that other models could be upgraded and transferred to Subaru's Global Modular Platform. 2018 Subaru WRX STI and WRX models weren't as lucky as Impreza, so they only underwent minor updates. A full redesign is still a couple of years away. The official debut of WRX STI and WRX models was on 2017 Detroit Auto Show on Monday. Market release is going to happen later this year probably in the spring, and both models will go on sale as 2018 MY. Biggest changes occurred on the front fascia of the car where front end was revised, and the cars were given a more aggressive look. The front end was also restructured and strengthen to improve frontal collision performance. Suspension and handling are also updated, and the car now feels better, and comfort is on a whole new level. Interior was made better by using materials of higher quality than it was the case before. Sound insulation is much better which can be felt when driving at higher speeds. List of novities on new WRX STI doesn't stop there with the car being equipped with new wheels and revised DCCD (Driver Controlled Central Differential) system. As far as powertrain goes there are no changes. A bit disappointing as this is we will just have to settle with turbocharged 2.0-liter flat-four with 268hp on WRX and 2.5-litre flat-4 which boats 305 horsepower on WRX STI. On the right side, the price will remain the same as on 2017 models. WRX will go for $27,500 while the WRX STI will start at $36,000. The WRX doesn't always come stock with a good serpentine belt so check out this blog post for a guide on upgrading it
The WRX STI is one of the most well known rally cars ever made and its road version is as impressive as the race-car. However, even though the car still has plenty of followers, it is not as good as it used to be. One of the main reasons for that is the engine which is a rather old EJ unit that has its roots back in the '90s. The chassis is not up to the task of competing with the newest cars in its class either. Luckily though all of this is about to change because the 2018 Subaru WRX STI is in the works. So far there have been only rumors about this new model but it seems that it might be a game changer.
Why buy WRX STI?
Well, unlike the older model, this one will be based on Subaru's new Global Platform. This will eventually underpin all of their models and it should make a great choice for the WRX STI. Like before, the car will use the same underpinnings as the Impreza while having a much more capable running gear and engine. Even though the new Impreza has been out for only a few months, the new chassis has been proven to be more rigid, a lot lighter as well as more capable than the older one. Combining this with the more capable running gear and engine from the STI should make for a very interesting car. The release date is expected to be around the mid of 2017 while its price will most likely be very similar to the ongoing model which sits at $36,000.
The powertrain of 2018 Subaru WRX STI
In the recent years the WRX STI started to have problems competing with hot-hatchbacks. Cars like the new Focus RS or the A45 AMG destroy the STI during any type of racing. However, this should change with the 2018 Subaru WRX STI. For starters, this will be the first STI in well over a decade not to use the EJ engine. Instead, rumors suggest that it will make use of the same type of FA engine found in the new WRX. This has been proven to be better in terms of power delivery, smoother as well as a lot more reliable.
It still is unknown if Subaru will go for a 2.5 or 2 liter version of the FA but in any case, the new WRX STI should make over 310 horsepower and this time around over 300 lb-ft of torque. Also, instead of offering the torque at 4,000rpm, the new engine will offer most of it at lower than 2,000rpm. This will improve the way it drives tremendously. Like before, a six speed manual and an all wheel drive system should both be standard. The performance numbers are not out for now but expect it to be considerably faster than the older model, despite having a similar output.
How it will look?
Well, there is no easy way of saying this but the 2018 Subaru WRX STI will look like an STI. Throughout the years the car evolved quite a bit but it always kept its traits. This means that it will most likely offer a large rear wing with an adjustable flap, a big hood-scoop in the front as well as more aggressive bumpers and side-skirts. The wheels will likely be bigger and wider for the new generation but the actual design scheme should be pretty similar to the latest Impreza.
Expect the STI to look a lot more like an update than anything else. Inside the cabin there will be a completely different story. Here the new STI should feature a more upmarket experience than before which will be needed in order to compete with cars like the Golf R or Audi S3, both costing roughly the same but being a lot more polished than it.
Here is a look at the 2017 model: