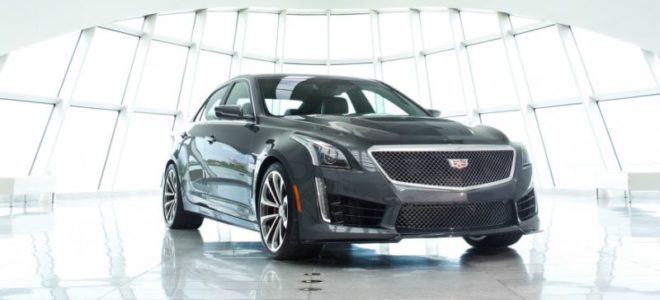 Back in 2015 Cadillac released the all new CTS-V which proved to be even better than people hoped. The car was using GM's brand new Alpha platform and it boasted the same engine as the most powerful Corvette. This is still true today but unfortunately Cadillac didn't change much since then. It seems that in order to become once again the best car in its class, it may receive a rather large update with the 2018 Cadillac CTS-V. So far the company didn't release much information about it. However, considering the direction their rivals are heading, it is safe to assume the new CTS-V will be even more impressive than it is today.
2018 Cadillac CTS-V Price
We did say the car was very good and definitely better than the competition, at least when it comes to overall performance. However, there are some problems with the current model. For starters, the car's steering feels numb and very light for the power it has. Rumors suggest that the new model will get rid of that problem. How? Well, it seems that Cadillac may install a brand new faster steering rack which should make it feel like at least as good as its rivals. On top of the vague steering the current model was also criticized for being just too cheaply built. This problem will most likely be addressed, especially since Cadillac's newer models don't have this problem. The new model is expected to be released by the end of the year and it should be released on the market shortly after that. The price is still unknown but we doubt it will cost anymore than the current base price of $85,000.
Possible new body style – 2018 Cadillac CTS-V Coupe?
The 2018 Cadillac CTS-V may receive at least one new body style. The car directly competes with Audi's RS6, BMW's M5 and Porsche's Panamera. The interesting part is that all of its rivals feature at least two body styles, with the Panamera being next to receive a wagon version. Because of that it seems that Cadillac might resurrect the CTS-V Wagon and its Coupe version. While the latter is nothing but a rumor, the first one is quite possible, especially since industry experts do think Cadillac needs it to become a top seller.
Exterior and Interior Design
The ongoing model looks like a pumped up version of the regular CTS and that is the case with its rivals as well. The updated 2018 Cadillac CTS-V will likely be quite similar to it. We expect new headlights and tail lights as well as likely new optional extras. Things such as new wheels or even carbon fiber inserts packages might be added. These would increase the value of the car and it would allow the buyer to further customize it. The further drawback would be the price which would get dangerously close to Audi's RS6 which has been the benchmark for some time now.
The car features a rather dull interior which will unfortunately not change for the updated version. We are quite sure that the 2018 Cadillac CTS-V will be pretty much identical to what is currently available. The digital instrument cluster, glossy plastics and questionable materials will likely be carried over. However, it seems that the build quality will increase which should solve a few issues. Also, the car is expected to receive a new infotainment system with more capabilities as well as a brand new sportier steering wheel.
2018 CTS-V Specs
The 2018 CTS-V will more than likely boast the same 6.2 liter supercharged V8 as the ongoing model. It currently makes 640 horsepower and 630 lb-ft of torque. However, the engine is known to make well over 650 horsepower reliably, so the new CTS-V will more than likely receive a power bump. In order to compete with its European rivals, we expect the car to offer around 660 horsepower and 650 lb-ft of torque. Together with a revised 8 speed automatic, the new CTS-V should be able to get to 60 MPH in less than 3.6 seconds and up to a maximum top speed north of 200 MPH. With the extra power, Cadillac could also revised the suspension system. The current model features a magneto-ride system which could be improved because it currently feels a bit too soft for this kind of power.