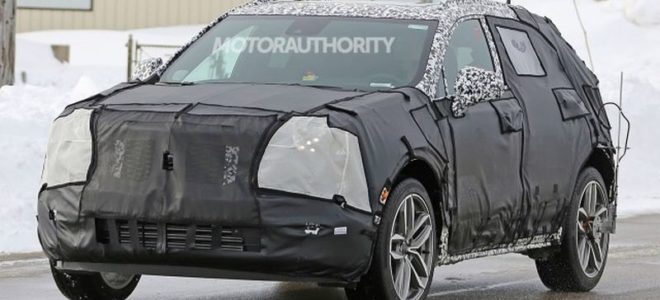 06/19/2017 UPDATE:Warm weather can be used in various ways. For example, Cadillac used hot temperatures to test its latest crossover 2018 Cadillac XT4. The vehicle which is going to be the smallest in Caddy's lineup will, according to what we can see will have a plug-in hybrid version. On the left side of the prototype, there is an opening above the front fender. This feat suggests the location of a charger hole.
Three months ago Cadillac stated that XT4 nameplate is going to be used for their upcoming compact SUV. They are branding it as a compact, but this US manufacturer has a trademark that they put on their vehicles. As it's already a custom, they make their vehicles larger than what is average in the segment. That is why the test mule of 2018 XT4 looks bigger than its designated competitors. If you didn't know Cadillac is launching this vehicle in order to counter the likes of BMW X1, Audi Q3, and Lexus NX.
2018 Cadillac XT4 was spotted testing in Europe. To be precise in southern parts of the Old Continent. This location translates as a sign that they want to go against German manufacturers. And, if this is true, then they couldn't have picked a more suiting vehicle for the European market. The all-around design is pretty much unknown thanks to the chunky camo. Nevertheless, some of the elements look very Caddy. Headlights are unique as one every Cadillac, and they are immediately noticeable.
American manufacturer reserved XT4 trademark back in 2014. The start of the production will begin in the second part of 2018. Because there is a lot of time for them to finish it, little is known about its traits. For example, the earlier rumors claimed its name would be Cadillac XT3 which turned out to be wrong. The compact SUV will most likely ride on the platform used by Chevy Equinox, and it will share the architecture with ATS models.
The sources such is autoevolution.com suggest that the 2018 XT4 will ride on D2 platform. This means that the crossover will have front-wheel drive. As for what's under its skin, we don't know for now. Johan de Nysschen from Cadillac said that it would have new, efficient, and powerful engines. If we had to guess, they would be series of turbocharged four-cylinder engines mated to a nine-speed automatic transmission.
The production will, as we mentioned, start in 2018 at General Motors Fairfax Assembly Plant in Kansas. Models such as Chevy Malibu and Buick LaCrosse are also made there.
06/13/2017 Review: Cadillac is GM's premium brand but even though they do offer a good selection of vehicles, they have been left behind my most of their rivals. Why? Well, currently Cadillac only offers two crossovers, the XT5 and the Escalade. Even though the two cars are very good, most of the market has been left unchallenged by them. In order to get back at the top Cadillac is set to release a few new vehicles in the upcoming years.
One of these is going to be the 2018 Cadillac XT4. Even though at this point the car hasn't been revealed by them, it has been confirmed not that long ago. The XT4 is set to be slotted right under the XT5, both in terms of price and performance. The details are still scarce at this point but just like the XT5, it seems the smaller XT4 is going to be based on one of GM's front wheel drive platforms and in this case, the D2XX.
While it hasn't been revealed so far, the XT4 has been spied testing on the open roads and the car's details are very close to what the rumors suggested at first. For starters it seems it will boast a 107.3 inches wheelbase, the same as that of the Equinox. This is 5 inches less than the larger XT5. The car is also expected to be around 5 to 6 inches shorter in length and 2 inches lower than its larger sibling.
Even though it will shrink slightly, it should still be more than capable at accommodating up to 5 passengers in perfect comfort. Even though it will share its chassis with the less expensive Equinox, the XT4 will boast a different running gear. This should offer a better driving experience as well as a better ride quality. This will likely be achieved with the help of a magnetic-ride system that could come as an option on the car.
2018 Cadillac XT4 Price & Release date
Regarding the price, there is no official confirmation. Sources from the auto industry and car magazines have a consensus that it will be positioned in mid-$30,000 region. The reason for why they think like this is the starting position of this SUV/Crossover. It needs to start much lower from the XT5's $40,000 starting price, and it needs to stay close to its competitors (Acura RDX, Audi Q3, BMW X1, Lexus NX, Mercedes-Benz GLA-Class) in terms of price. The new model such is this one will need time to settle on the market, and there's no better way than to start with an acceptable price. $30,000 is just right for an SUV from luxury automaker such is Cadillac.
The release date of 2018 Cadillac XT4 is set for mid-2018. The exact date is not specified but the summer months will likely signal a showroom presentation and start of production rather than the dealership release. Nonetheless, it will arrive next year, so even if we have to wait for late months of 2018, the US automaker will most likely make the wait worth of our time.
Exterior Design
The 2018 Cadillac XT4 seems to look quite close to the larger XT5 despite being smaller than it. The camouflaged model gives us a good idea bout how the finished model might look. In the front it seems the large grille, rather small headlights and vertical LED strips will still be used on the XT4. However, the car definitely has a much wider grille in the bumper which could boast a honeycomb mesh design. The body is also just as bulky as that of its larger brother.
However, the roof does seem to have a curvature to it which likely suggests a coupe-like design. The back of the camouflaged car has been covered by fake plastic inserts but these likely hide the raked rear window and the rather aggressive tailgate design. Dual-rectangular exhausts seem to be standard at this point. The tail lights are also vastly different from those found on the larger XT5 extending further inward.
Inside the Cabin
Unfortunately it still is quite early to say much about the cabin of the 2018 Cadillac XT4. Luckily though GM likes to improve their design and offer it across a wide range of cars. The XT5 is a good example of that with an interior closely related to their other cars. This will likely happen with the smaller XT4. The car will likely boast the same minimalist design as its larger sibling. However, instead of the wide center console and the tall dashboard the car will likely receive something more similar to a sedan. This should give it a sportier feel from behind the wheel which is quite important in its class.
Under the hood of new XT4
The 2018 Cadillac XT4 is more than likely not going to be available with a V6. While some will definitely be disappointed, the car is more than likely going to offer enough power for most of its customers. In fact with this model Cadillac is expected to offer just a single engine choice with GM's 2.0 liter turbo-four. This engine is known to make 252 horsepower and 260 lb-ft of torque in the Equinox sibling. The XT4 might receive a higher rated version of the same engine which could boast in excess of 270 horsepower and 270 lb-ft of torque. Also, the car is expected to come equipped with an 8 speed automatic instead of the 6 speed used in the Chevrolet which would improve both performance and fuel economy.