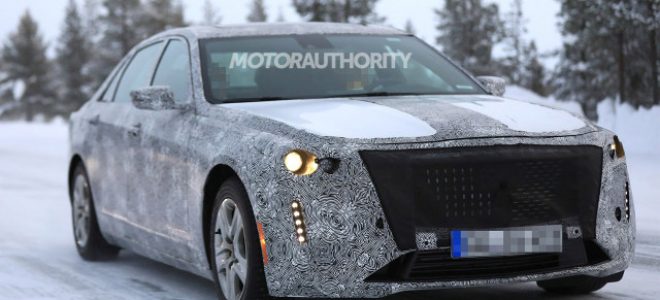 The CT6 model was the first Cadillac that was named using new naming strategy. It represented the first model from this automaker that used a lightweight aluminum platform called Omega. This platform was used by large, rear-wheel-drive vehicles manufactured by General Motors and its subsidiaries. The first CT6 model was highly popular with buyers that wanted luxurious, spacey sedan that came at an affordable price. To those that want impressive handling and driving dynamics, CT6 offered that too. So, in a manner, a tradition was created, and Detroit-based manufacturer wants to continue the same path with the upcoming 2019 Cadillac CT6
The work on making this sedan even more impressive has already begun. Prototypes that represent facelifted CT6 have been spotted again. This time they were tested in the winter conditions. From what we can see there will be significant visual changes to this model. If you want a direction in which new 2019 CT6 is heading, just look at Escala Concept.
The parts of the 2019 Cadillac CT6 test mule that represent the design of concept mentioned above are grille and front bumper. Despite the massive camouflage these traits and design cues are easily noticeable. It seems that entire front fascia will be Escala-like because headlights look similar to those of the concept. They are now thinner with more horizontal strides. The lights on the prototype look like they are not still production ready, but Escala screams out of them. The lights currently used have a more vertical stance, so this will be quite a U-turn. The lights on the back will probably go in Escala direction, but we can't be entirely sure yet.
The changes on the interior, are expected, but they shouldn't be any significant updates. What you should look forward are new safety and driving assistance features. On the ongoing model, you already have Super Cruise self-driving available, and same should be expected for 2019 MY. This system can be used for single-line driving and limited highway driving. CUE infotainment system is another feature you can expect.
We can't tell with utmost certainty will there be any changes under the bonnet. The shift from a 4.2-liter engine to a twin-turbocharged V-8 is expected. This unit will power 2019 CT6, but there probably won't be a CT6-V version.
This vehicle should debut in late 2018 as 2019 MY.
7/24/2017: The CT6 is Cadillac's flagship sedan, and despite the fact it hasn't been as successful as they hoped, it still sold better than most of its rivals. In order to stay ahead, it seems the car is set to receive an update with the upcoming 2019 Cadillac CT6. The manufacturer decided to keep quiet about it, but even so, the car has been actually spied testing on the open road. It seems it will receive a new front-end design as well as a few other upgrades which we are going to discuss next. Likely one of the biggest changes will be the addition of a new engine but more on that later.
The car is Cadillac's only car based on GM's Omega platform. This offers a really long wheelbase and track width which is comparable with that of a full-size sedan. However, the CT6 weighs considerably less than any other car this size so it is far better to drive and actually quite comfortable despite not being as high end as some would suggest.
The updated model is set to continue on the same platform as before. The running gear, including its brakes, will likely not change that much. However, Cadillac may add a new model into the mix which would come with an adaptive set of dampers as standard. This is the rumored "V" model which was supposed to be released more than two years ago. This trim level would give the CT6 the power and driving characteristics it needs to become one of the better cars in its class.
2019 Cadillac CT6 Price &a Release date
When first introduced, new CT6 left a good impression. Now, few years have passed, and Cadillac is ready to step up the game with this model again. You already know this from reading our article. What you might be curious about is when will 2019 CT6 become available. This should happen in mid to late 2018. The vehicle will most likely come as 2019 MY.
Another positive fact comes in the form of the price. The upcoming model won't skyrocket in cost. Rather it will stay close to the current $54,700 price for the base model. Nevertheless, with small exterior changes and tech tweaks on the inside, the pricing on the upper trims might happen.
| | |
| --- | --- |
| Release Date | 2018 as a 2019 model |
| Price Range | $50,000 – $83,300 |
| 2017 Cadillac CT6 2.0T | $54,490 |
| 2017 Cadillac CT6 3.6 | $56,490 |
| 2017 Cadillac CT6 3.0T | $65,390 |
| 2017 Cadillac CT6 Plug-In Hybrid | $76,090Design |
2019 CT6 Exterior Changes
As we said, likely one of the biggest changes done to the 2019 Cadillac CT6 is going to be its front-end. A test mule has been spied not that long ago, and even though the car was heavily camouflaged, we were still able to see some interesting details about it. It looks like Cadillac looked at their Escala concept which has been released back in late 2016. This means that the rather expressive front end of the car will be replaced by something a lot more aggressive.
The grille is expected to get larger and get more towards the lower part of the bumper. Also, the swept back headlights will definitely be replaced with much slimmer units that could be integrated into the grille, and it seems they will actually be integrated into the grille.
The interesting part is the fact that Cadillac is not discontinuing the vertical fog-lamps which would allow some continuity for the range. This model may also receive laser headlights which were previously unavailable. The rear of the car, on the other hand, is more than likely not going to change as much which is a shame. It seems that the only real upgrades here will be the tail lights and possibly the bumper. The sporty 2019 Cadillac CT6 V, on the other hand, will definitely receive new front and rear bumpers, larger wheels and possibly a quad-exhaust system in order to better fit its new engine.
Interior
So far there hasn't been much available information on the interior of this update. Most rumors suggest the car's design is actually not going to change all that much. However, it seems that Cadillac may improve the materials inside the cabin which was good so far but not nearly as good as they should which is especially true for the lower part of the cabin. In order to get better, it seems that less plastic will be used while materials like leather, aluminum or wood will be more prevalent throughout the cabin.
Under the Hood
The regular versions of the 2019 Cadillac CT6 will more than likely retain the same engines as before. This means that the 2.0-liter turbo-four, the 3.6 liters naturally aspirated V6 as well as the 3.0 liter twin-turbo V6 will still offer the same amount of power as before. The new "V" model, on the other hand, is expected to receive a new generation 4.2 liter twin-turbo V8 which has been developed on the same platform as the 3.0-liter engine. This is expected to offer north of 550 horsepower and well over 500 lb-ft of torque. This time around all engines is going to be mated to a new ten-speed automatic which will drive either the rear or all four wheels depending on the model of choice.
Gallery