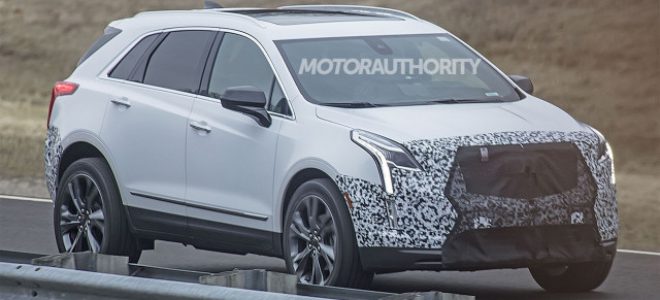 Entire Cadillac lineup will drastically change in the upcoming years. The US manufacturer is now, more than ever, focused on its SUV vehicles. In 2016 they have released 2016 Escala concept which features brand's new design lines. These lines will now be transferred onto their SUV models. The XT4 and CT5 models are already being prepped for upcoming changes while there is also talk about CT4 and XT6. Now, with the first spy photos of 2019 Cadillac XT5, we know that this model will also get some traits from Escala concept.
Cadillac lineup has more models than only its SUVs so that you can look forward to the updated ATS, CTS and XTS models.
Exterior and Interior Design
The 2019 XT5 is an early prototype which can be seen from the pictures. But, regardless of that, we can tell that entire front fascia together with headlights will be upgraded. The same can be said about the rear end of this vehicle. The part of the SUV that car enthusiast looks forward the most is definitely the front fascia. If it resembles the Escala concept even a bit, it will be a hit among Cadillac buyers.
On the inside, the 2019 Cadillac XT5 will also come updated, but we are not yet sure at which extent. Besides that standard equipment that every Cadillac model offers new 2019 XT5 will probably include features such as electronic driver aids, and Super Cruise partial self-driving system for highways. Both of these are currently available only on Cadillac CT6.
2019 XT5 Engine Options
The current version o XT5 isn't rich in engine options, and Cadillac will look to address this with upcoming 2019 MY. The only unit that comes with ongoing XT5 is a 3.6-liter V-6 that has 310 hp output. The much-anticipated extension of powertrain options will happen in the shape of a 2.0-liter turbocharged inline four. This powerplant is slowly becoming a must among carmakers.
In the overseas markets, such is China, Cadillac offers XT5 with a hybrid system. While this would be a desirable option in the US, there still is no word if the Detroit-based company will sell hybrids in the States. Their sister-brand Buick sells its Lacrosse model with this system so that it wouldn't come as a real surprise.
2019 Cadillac XT5 Release date & Price
We are not sure how deep has Caddy dived into the development of this vehicle, so the release date is still unknown. According to currently available information, there is a possibility for late 2018 release. But most likely this SUV won't be available until early or mid-2019. So it is currently unknown whether will the vehicle be sold as 2019 or 2023 model.
As for the price, it is yet hard to determine; but it will likely go up. The redesign of both front and rear fascia, combined with technologically updated interior will merit an increase in the price. How much? We can't tell. What we can tell you is that the ongoing version o XT5 SUV is priced at $41,000 for FWD model. The addition of AWD will cost you additional $3,000. The top-tier Platinum trim starts at $64.000. If you opt to add different packages that Cadillac offers the price can climb all up to $70,000. The mid-ground package that includes AWD, navigation, 20-inch wheels and sunroof will cost you $56,000.