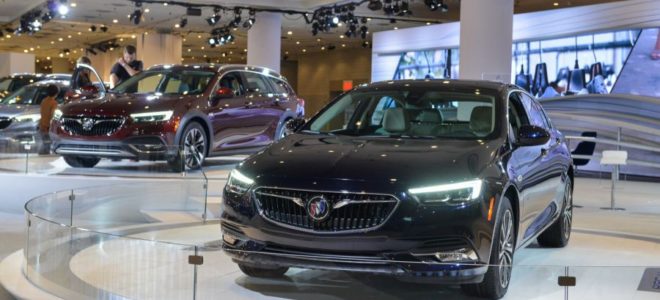 04/13/2017 UPDATE: The Opel Insignia is coming to the United States just clothed a bit differently and under the different name. 2018 Buick Regal Sportback is going to be to Americans what Insignia Grand Sport is to the Europeans. 2018 Buick is coming in two new variants, considering that before it was available as a sedan only, this is a serious improvement. The Sportback version is joined by a crossover-ish TourX which is essentially a wagon version of Regal with more uplifted suspensions. The TourX is as you probably guessed it US variation of Insignia Country Tourer.
The one thing that won't be coming to the US is the regular Sports Tourer which is the same as Country Tourer just without higher ground clearance. So to out it plainly the XTour won't come with small ground clearance.
Engine and Tranmission
Unlike Insignia that has multiple gasoline and diesel engines offered across the lineup, 2018 Buick Regal will come with only one available unit. The powertrain in question is a 2.0-liter turbocharged four-cylinder petrol unit. When transferring power to the front wheels, this engine will have an output of 250 horsepower and 260 lb-ft of torque. In this configuration, you will also have only one transmission available, and that is nine-speed automatic gearbox. Ford additional cash you can buy Sportback version of 2018 Regal which comes with the AWD system that improves levels of torque up to 295 lb-ft. This kind of setup comes with an eight-speed automatic transmission.
If you are not satisfied with these numbers, then you will have to wait for a GS version of 2018 Buick which has aV-6 powertrain. The rumored car that was recently leaked by mistake should have at least 310hp, and 282 lb-ft of torque just like LaCrosse has or even 335hp and 284 lb-ft of torque available in Camaro. If it can serve as some sort of comparison Holden Commodore in Australia has 308hp and 273 lb-ft.
2018 Regal Interior and Safety
On the inside, there were no savings to put it that way. If you look at the base model, it comes with a push-buttons start and entry, ten airbags, hill start assists, and it even has heated mirrors. On the center part of the dashboard, you have a 7-inch infotainment system compatible with Apple CarPlay and Android Auto. As for the bigger (eight-inch) display, you will have to pay more money, and same goes for Bose surround system. On the TourX and upper spec installments of 2018 Buick Regal, you will find power liftgate which has Buick's brand logo projected onto the floor. This way the driver will always know where the sensor is located. For those with deeper pockets, there is a set of optional features which include a variable roof rack, portable Bluetooth speaker, and numerous other feats. On the safety side, you will find active hood pedestrian safety system which is a first of its kind on a Buick vehicle.
2018 Buick Regal Release date and Price
The release date of 2081 Buick Regal is set for the last few months of this year. Despite its introduction at 2017 New York Auto Show we will have to wait for the fourth quarter of 2017 to see it on the streets. The price is not made public as of yet, but it will be known as the date of release approaches. Regal will be available in four different trims, and those are Regal, Preferred, Preferred II and Essence.
02/17/2017 Review: The current generation of the Regal has been first released back in 2008 as the Opel Insignia. Even though the car has been around since 2010 in the US, this doesn't change the fact it is an old design. The interior is not up to date with the latest technologies while its engines have been succeeded by much better ones. In order to refresh the name, a new model is going to be released with the 2018 Buick Regal. The car is still a few months away from release. However, its European counterpart, the brand new Insignia, has already been released. This means that we know pretty much everything about the upcoming Regal and things are quite impressive so far.
The Epsilon II platform will be traded for GM's brand new E2XX chassis. This is considerably lighter than stiffer than before. In fact, despite growing in size quite a bit, the new Regal is expected to be 300 to 500 pounds lighter than before. This will aid both fuel consumption and performance. The design will evolve quite a bit in a car that will be able to hold its own against rivals like the Audi A4 or Mercedes C Class. The car will likely hit the market in the second half of 2017. Its price is more than likely going to increase quite a bit. The current model starts at $28,000. This is not going to work for the new model. Instead, expect it to cost at least $35,000 which still is in the lower cost part of its class. This price would allow Buick to turn a profit while also offering their customers a good amount of features and quality.
2018 Buick Regal Redesign
The older model was identical to the Insignia with the only difference being the grille. Well, the 2018 Buick Regal is no different. Even though Buick hasn't actually released any pictures of the car, this is quite clear, especially since the prototypes for it were wearing no camouflage. Over the older model the new car will be nearly 2 inches longer and it will have a 4 inches longer wheelbase. The height will drop by little over a full inch and it will be 0.4 inches wider. All of these will not only mean more interior space but also a considerably better stance on the road. The front end of the Regal will sport Buick's well known grille but in a much smaller package. The headlights will be swept back, just like they are on the Insignia, and those ugly design lines on the sides are going to be gone. The end result will be a grown up car with plenty of stance for its class. This could be Buick's first model to actually win the battle with the European rivals, especially now when the car itself is actually European.
Leaked photos of Chinese version of 2018 Buick Regal.
Interior of 2018 Buick Regal
We don't expect any major changes to 2018 Buick Regal's interior. In fact we expect it to be identical to that of the newly released Insignia. The interior will feature a really minimalist look with a minimal amount of buttons. The dashboard will feature a large infotainment screen in the center and part of the instrument cluster will actually be digital, a similar design to an older Mercedes. The materials will be significantly better than before and the car's set of features will be similar to any other executive sedan in this price range.
Engine Options – Maybe a Regal GS?
Buick has not said all that much about what engines their new model is going to feature. Most rumors suggest a 2 liter turbocharged inline 4 as its base powertrain. This might offer in excess of 250 horsepower and 270 lb-ft of torque and it may send all of its power to the front wheels via an eight speed automatic. An optional all wheel drive system, with clutches instead of differentials, will also be used for those wanting it. This is a similar setup to that found on the Focus RS. A high performance GS version is also a real possibility. Most rumors suggest a 3 liter twin-turbo V6 with in excess of 400 horsepower. This would actually make it more powerful than the competition and it would finally give Buick a true high performance executive sedan. Later down the road the car is likely going to receive GM's new 9 speed automatic.
Buick Regal 2018 Release date
The release of new Regal is closely tied to the release of new Insignia. After Opel's model failed to make an appearance in 2016 announcement of Buick's sedan was postponed. Now, after the Insignia got scheduled for 2017 Geneva Auto Show the time has come for 2018 Buick Regal to get its date. Since we are now entered into 2017, this sedan can be expected any day. Of course, this is a model that Detroit-based company has enormous expectations of so they are going to create a suitable entrance for it. According to gmauthority.com new Regal is going to debut at 2017 New York International Auto Show.