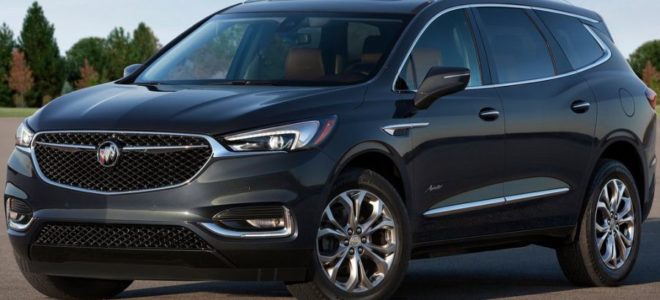 04/12/2017 UPDATE: The Enclave is an important vehicle for Buick. Back in 2007 when it was introduced, it was an instant success. Actually, the sales of this crossover were that good that the GM let this model exist for nearly a full decade without a major update. Now the new generation model is finally here in a shape of 2018 Buick Enclave. It's bigger, more elegant, better looking and most of all more luxurious than ever.
The newest installment of Enclave walks in the footsteps which were left by previous GM models – Chevy Traverse and GMC Acadia. In direct comparison, you will notice that both 2018 Enclave and 2018 traverse became bigger while Acadia dropped in size. The wheelbase of Buick's crossover is now 2.0-inches longer which puts it among the biggest models in the three-row crossover segment. The only larger competitors are Ford Explorer, Mazda CX-9, and the all-new Volkswagen Atlas.
2018 Buick Enclave is powered by a 3.6-liter V-6 which is the only available powertrain on this model. This unit comes with satisfying 302 horsepower and 260 lb-ft of torque. The number mentioned are improvements in case of hp (the previous model had 288hp) and a small drop regarding torque ( the previous model had 270 lb-ft of torque). Depending on your choice 2018 Enclave comes with front-wheel drive or all-wheel drive. The engine we mentioned is mated to a nine-speed automatic transmission which is a huge step away from previously available six-speed. Regarding efficiency, this vehicle is rated by EPA, and its ratio stands at 15mpg in a city and 22mpg highway when on AWD while at the same time FWD has 25mpg highway rating. If you want to tow something, it is a good thing to know that 2018 Enclave can tow up to 5000 pounds.
Buick Enclave 2018 – Introducing the Avenir
Moving away from standard Enclave and we get to the newly introduced Avenir sub-brand. The compact sedan concept which was introduced in 2015 at Detroit Auto Show borrowed its name to the entire lineup of Buick present (starting with Enclave) and future vehicles. This apparently happened because US company has no intention of making Avenir sedan a serial production vehicle. The difference between standard and Avenir trim lies in a specially made mesh grill up front, 20-inch alloy wheels, customized interior with new colors available, wood details on the steering wheel, and Avenir logo on the floor mats and sill plates. Also, it will differentiate itself from rest of the lineup with series of additional equipment. Some of those include navigation, ventilated front seats, heating for first and second row seats, a dual-pane sunroof, 360-degree camera system, rear-view camera, and adaptive dampers that are a special treat from Avenir.
Every 2018 Buick Enclave in the lineup regardless of the trim of your selection will come with a second-row captain's chair, a power-folding third row, an 8.0-inch touchscreen display, Apple CarPlay and Android Auto, 4G LTE Wi-Fi, a hands-free liftgate, and keyless entry and ignition, both of those being passive. In terms of safety, you will find yourself surprised with the level of features available. Most notable of which include automatic emergency braking, pedestrian detection, lane-departure warning, lane-keeping assist, and rear cross-traffic alert.
2018 Buick Enclave Price and Release date
As far as the price and release date go, we have partial information. The price of 2018 Buick Enclave for lower trims will be in the region between $40,000 and $50,000. With previous installments, people from the Detroit-based company stated that best-selling vehicles belonged to the two upper trims. This prompted the introduction of premium level trim – the Avenir. Expect for this trim to go well above regular ones or any that was available in Enclave lineup previously. As far as we are talking about a release date of 2018 Enclave they still don't have any time reserved. According to information that we have available now the late fall is the time when you should expect this crossover. When that happens, we will know the exact price for every trim. In the mid-time enjoy the photo gallery from 2017 New York Auto Show.
03/30/2017 UPDATE: In a car market that is being dominated by crossovers, it is unimaginable that a car manufacturer lets one its models stay behind competitors. That is exactly what happened with Enclave model which wasn't redesigned since 2008. The only changes were done in 2013 when this vehicle was slightly refreshed. This neglecting is about to change with 2018 Buick Enclave which is set to debut at 2017 New York Auto Show after it undergoes a full redesign.
The front fascia is the part of the car which is going to receive biggest changes. The grill is going to be an all-new, and it will be in correspondence with other vehicles in Buick lineup namely with LaCrosse and Encore. The changes will also put a new design on headlights, and this all was confirmed by Buick via teaser photo that Detroit-based company released.
There is a trend to make vehicles smaller with every new generation. You can see this on new GMC Acadia which was reduced in size, but worry not the 2018 Enclave is going to retain its large dimensions. The older brother from GM family 2018 Chevy Traverse kept its massive appearance but got somehow box-like shape, and you can expect the same treatment for new Enclave. An important fact for Buick's latest crossover is that it's going to sit on an entirely new platform. Also, you can expect a ton of new features, and small details that are a mark of every serious SUV which Enclave certainly is. Expect for the car to be available for purchase on a later date this year. Until then stay tuned for more info, new photos and official presentation of this model.
Released in 2007, the current Enclave is no longer up to date. After many rumors about the car, the upcoming 2018 Buick Enclave was finally spied wearing quite a bit of camouflage. The car basically confirms most of the rumors. Like it was suggested, it will continue to share its platform with the Acadia and Traverse. However, this time around GM will give it the stretched wheelbase version which will also be found in the Traverse. On top of that, the new Enclave is going to benefit from massive weight savings, new engines and a more modern look as well.
GM has not stated anything about the release date of the future car. However, considering the past and how Buick usually releases their cars, it is safe to assume the new Enclave will be showcased in the spring of 2017 at the New York International Auto Show. The car's new platform remains a front wheel drive chassis but GM is now using high strength steel with some parts even being made out of aluminum. The end result should be a weight loss in excess of 500 pounds which will get the large Enclave down to around 4,300 pounds which is still in the upper limit of its class.
The design of new Enclave SUV
So far the prototype of the 2018 Buick Enclave seems to be very similar to that of the Traverse. Also, if we would have to assume, then it is safe to say that the car will more than likely share some parts with the Acadia as well. In the front it is quite clear that Buick installed their grille as well as different LED headlights. From the profile though, the car looks remarkably similar to the Acadia, only longer. This is to be expected considering the two will share the same platform, and likely the same factory as well. Leaving that aside, the Buick is also going to get a unique rear end, likely with its exhausts integrated into the bumpers. On top of that we might see more chrome than before which is not really on everyone's liking but it seems Buick's customers do tend to like chrome.
2018 Buick Enclave – Inside the cabin
While the exterior will get the unique Buick touch, not the same thing can be said about its interior. Even though the car is still unreleased, in the past Buick used the same dashboard and mostly the same features as its siblings. We do hope that things will change now, especially since then want to compete with the Q7 and Volvo XC90. However, if things remain the same then do not expect the car to fare too well against its rivals.
Under the hood
The previous car features a 3.6 liter V6 while the new Acadia gets either a 2.5 or 3.6 liter engine. Considering the 2018 Buick Enclave is larger than the Acadia, and likely the older model as well, we expect the new car to get just the 3.6 liter naturally aspirated V6. This time around though the engine will be a new generation all aluminum LGX unit. This makes in the Acadia up to 310 horsepower and 271 lb-ft of torque and it is safe to assume it will get into the Enclave roughly unchanged.
If things don't change until then, the car will more than likely feature a six speed automatic and either front or all wheel drive. It is worth mentioning though that GM currently has under development a new nine speed gearbox. This has been in the making for some time and it might just be finished in time to be shown on the new Enclave. If not, the six speed unit will have to do for around two to three years.