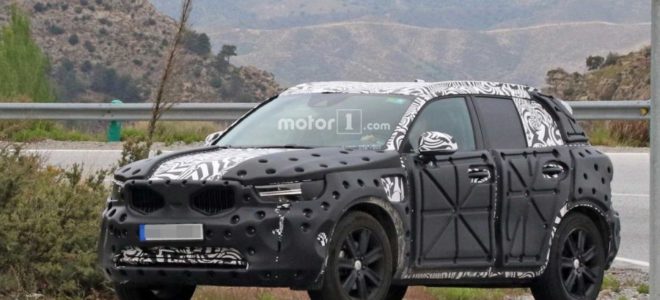 06/21/2017 UPDATE: It is only logical now that the winter is far behind us that manufacturers are using hot weather for their tests. The latest vehicle that was caught by spy camera is 2018 Volvo XC40. Swedish manufacturer took its smallest SUV out for the ride on the roads in Spain. Weather in this part of the Europe is ideal for driving simulations in extreme weather. Well not so extreme, but days in Andalusia can be hot.
Of course, a huge company such is Volvo care less about Spanish climate but more of getting the best out of their vehicles. 2018 XC40 will be the third SUV/crossover to come from this factory in last few years. Not all of them were entirely new, but each one underwent a redesign. After the largest XC90, and the middle brother XC60, the XC40 is getting ready for release. This car is the smallest in its family, but compared to the competition it will offer more space. Swedish manufacturer insists on comfort and space more than Audi with Q3, BMW with the X1, Benz with GLA, and Infiniti with QX30. The Munich company is launching the BMW X2, and this one might stand toe to toe with 2018 Volvo XC40.
Design wise there won't be any surprises. The styling was predestined for this model as its going to resemble its bigger siblings. It's not going to be that XC40 is just the smaller XC60 and nothing more. It will look alike but with high doses of personal identity. With recent models, Volvo has set the bar high for themselves and competition alike. So, don't worry, 2018 XC40 will sweep you off your feet on its launch.
The part where the upcoming compact crossover is going to differ from its older brother is the engine bay. Under the hood 2018 Volvo XC40 is going to feature 1.5-liter three-cylinder turbo unit. In upcoming years Volvo will try to get rid of diesel engines, but for now, these mills will find its place under the bonnet of XC40.
This is where we come to the interesting part. The test mule spotted in Spain had camouflage on the front left side. On that exact position Volvo's T8 (Hybrid models) have their charging port. We can't say with utmost certainty that the prototype had a hybrid powertrain, but the final product will have hybrid/petrol option.
Another thing that supports this claim is that one of the 2018 XC40 prototypes sounded very quiet. Compared to the others spotted on the same day this one released less noise from engine and exhaust pipes.
Stay tuned for more info.
06/06/2017 UPDATE: We have already seen camouflaged 2018 Volvo XC40 many times, so you probably ask what's different this time? This time around spy photos show us, and in good measure, the interior of named crossover. The pictures have few close-up frames so we almost entirely know what the cabin of new XC40 might look like. The chief ornament on the dashboard is all-digital instrument cluster. The infotainment comes mostly the same as it's on the XC60 and XC90 models which is normal because these vehicles are considered to be older brothers to XC40. It's also important to mention that touchscreen which is featured inside the cabin is portrait-oriented. The size of it appears to be 9.2-inches and is surrounded by black pieces of the frame. This might be a problem for maintenance because black color collects dust like post stamps.
Moving onto the air vents, they are also similar to other Volvo models. But, this time around not to crossover/SUV family but more like on S90/V90. The steering wheel seems to be wrapped in leather and is similarly shaped just like R-Design models.
At the back, most of the passengers will be satisfied with legroom offered. Back seats also offer fold-out tables, but for now, this is more likely to be an optional feature. Unlike the concept on which 2018 XC40 is based on, the production version will have third side windows. Another difference between concept and the upcoming vehicle is the lack of flush door handles at the front and rear ones which were mounted high.
05/11/2017 UPDATE: 2018 Volvo XC40 is going to be released in just a few months from now, but head honchos from Sweden still don't want to give us a good look at their smallest crossover. The latest spy photos have been taken in Germany on a highway, where future XC40 is being escorted by its older brother the XC90. Despite many photos from various angles it is hard to distinguish anything thanks to the, still, heavy camouflage. In spite of this, we have no doubt that, at the moment, when we have it fully uncovered in front of us the vehicle will be as crafty designed, stylish and elegant just like XC60 was a few months ago in its presentation. Volvo's 40.1 Concept previewed the model in question, and we imagine that the design of 2018 Volvo XC40 won't stray too far from it.
The platform on which this model rides on is the Volvo's all new CMA global platform. The 2018 XC40 is the first model from Swedish manufacturer that rides on named platform. The primary goal of this crossover is to quickly infiltrates the market, and to gives its best against rivals such as BMW X1, Audi Q3, and Mercedes GLA. With its introduction Volvo want's to make it easier to enter the global market with other vehicles from 40 series. These vehicles are S40 sedan which will counter the A3 Sedan and CLA/A-Class Sedan and a V40 Country Cross. Like we mentioned the 2018 XC40 would be Volvo's smallest crossover, but it won't be able to hold on to that title for much longer. As the sources from Sweden have confirmed they are gradually planning to create 20 series which will fill the mini segment.
2018 Volvo XC40 release date
If you are eagerly expecting the release date of 2018 Volvo XC40, the way we are, you will have to wait for a few months. The official presentation is going to happen this fall, while the sales will start in late 2017 or the early months of 2018. It will be available with a variety of powertrains which include a range of three and four-cylinder mills, a turbocharged one, and a range-topping T5 Twin Engine hybrid unit.
As we mentioned the XC40 will be presented this fall, but you shouldn't count on Frankfurt, Germany introduction. The Swedish manufacturer has reduced the number of its showroom appearances, and it will feature only in Detroit, Geneva, and Shanghai/Beijing. They will probably make a special presentation in their facilities like they did with V90 Cross Country.
03/09/2017 Review: Ever since they have been acquired by Geely, Volvo has been on a roll. They developed two different platforms so far. The higher end SPA architecture was showcased with the XC90 while their smaller CMA modular chassis is going to be released with the 2018 Volvo XC40. A while ago Volvo actually showcased the 40.1 concept which previews the upcoming compact crossover. So far it seems that the production model will be quite similar the original concept. We are confident saying this because the camouflaged model seen a few times now has the same proportions, it features the same design cues and it even seems to be mostly identical in terms of size. Unlike the concept though, the production XC40 will come with a few differences which will make it slightly more conventional.
2018 Volvo XC40 Price and other details
Volvo's new CMA platform is actually going to be used by a few other companies. This allowed them to lower the R&D costs for it and focus their funds in other key areas about the car. Even though this may not sound important, the XC40 is expected to be one of the most impressive cars in its class. In order to become successful Volvo focused on making it look as good as possible and so far it seems that they did it. The price is still unknown at this point but the rumors suggest an entry point of over $30,000 with the top end models going far past that.
Volvo XC40 Interior
There is no available information regarding the interior of new XC40, but at this point, we can say that it won't be revolutionary. Most likely it will borrow design cues from its older siblings the XC90 and newly presented XC60. Both upscale models got high praise for its interior solutions, and we have no doubt that new XC40 is going to get the same. Even if are not sure just how will the final product look we can say a thing or two about features and equipment that this model is going to have. Volvo being one of the companies that put care about passengers safety in first place is going fill the XC40 with most of the gear that it has available. Some of the equipment that features on XC60 and XC90 will find its way onto the XC40.
One of the most important things about a premium model is the interior. So far it seems that the 2018 Volvo XC40 will deliver a rather incredible experience. Volvo acquired quite a bit of knowledge with the larger XC90 which they are going to put into good use. It seems that the smaller XC40 will use a similar layout to its larger sibling. The car is expected to get a large portrait-mounted center touch-screen and a minimal amount of buttons. This type of design will result in a less cluttered interior which will feel more open than otherwise.
The materials, just like in its larger sibling, are going to be as good as they get. As standard it will likely come with premium cloth seats but a leather wrapped dashboard and roof. As an option Volvo is also expected to add a glass roof, a larger center screen and likely better seats wrapped in leather. From tech and safety that will 90% sure be standard features on this model, we would like to list Sensus infotainment system, vertically positioned HVAC vents, Steer Assist function, Oncoming Lane Mitigation, and Volvo's semi-autonomous system Pilot Assist.
Volvo XC40 2018 Crossover
The main selling point of the 2018 Volvo XC40 will be the way it looks. This is true not only for it but also for its rivals. However, Volvo does have an ace here. The XC40 will look pretty much identical to the 40.1 which received a lot of praised for how it looked. The car will get a swept back look, similar to the concept, thick C pillars which will make the roof seem like it's floating as well as a bulky front end. "Thor's hammer" headlights, large L-shaped tail lights and clean-cut design lines will become the trademarks of the future XC40. Unlike the concept, the production model will get smaller wheel arches as well as smaller wheels. This doesn't mean in the future Volvo won't offer a higher performance model though.
Volvo XC40 2018 Specs
It has already been confirmed that the 2018 Volvo XC40 is going to get their modular engines. The base car will receive a 1.5 liter turbocharged 3 cylinder mill. This is known to make anything between 150 and 190 horsepower so Volvo might offer it in a few different outputs. A more powerful 2 liter turbo-four gasoline mill is also a real possibility. This could easily provide as much as 300 horsepower which would easily make the XC40 one of the most powerful models in its class. A hybrid has also been confirmed.
Just like with the larger XC90, the XC40 could get plug-in capabilities. The car could get to use a 1.5 liter gas engine coupled to an electric motor for a total output closer to 220 horsepower. With the exception of the hybrid, all versions of the car will likely receive front wheel drive as standard. The all wheel drive system will come as standard on the hybrid and as an option on all the other offerings. Volvo's great 8 speed automatic is likely going to be the only transmission choice.
2018 XC40 is completing its winter test in Arctic part of Sweden which is a clear sign that this model is in late stages of its evolution. According to various sources from auto industry, Volvo is in a hurry to launch its model and quickly establishes itself in the small crossover market. That's why the Swedish manufacturer is aiming for a summer release of this model. Let us mention that this is only the first model from 40 series. Quickly after the new XC40 is launched V40 hatchback and V40 Estate are going to hit the roads. The V40 estate will be available in a standard version and a little more off-road Cross Country.
Competitors
Another reason for why Volvo want's to put its new crossover out on the market as soon as possible is the matter of competition. Some of the rivals that the 2018 XC40 is going to encounter have already made a name for themselves. Additionally, Volvo has almost made itself a luxury brand and as such it's is going to have a rough time getting a share of the market for XC40 with competitors such as Range Rover Evoque, Audi Q3, Mercedes-Benz GLA, BMW X1, and Infiniti QX30.