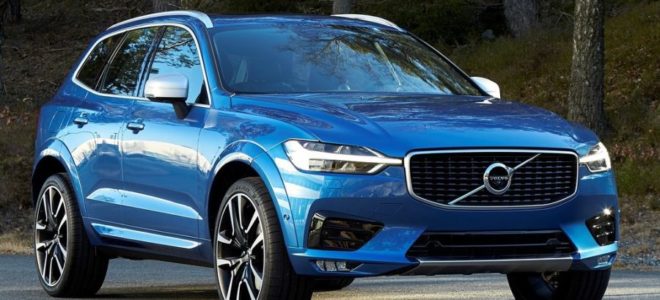 03/29/2017 UPDATE: The segment of the moment, and we talk about crossovers, is as of a few weeks ago richer for another member. Swedish premium car maker, Volvo, presented its new baby at recently ended 2017 Geneva Motor Show. The vehicle in question is 2018 Volvo XC60, and this compact SUV is really something. Let's see what.
2018 XC60 replaces the old and outdated model which arrived on US shores in 2009. We have at our disposal redesigned model which comes with three different engine options, an eight-speed automatic transmission which comes as standard, and an entire set of safety features that are Volvo's trademark.
Chief executive of Volvo cars, Hakan Samuelsson stated: "We have a strong heritage in designing stylish and dynamic SUVs that offer the latest in technology. The new XC60 will be no exception."
New model in its lineup, the XC60 will use the same platform that debuted on larger XC90 but in its shorter version. The latest installment of this crossover is wider and longer than the outgoing model, but lighter at the same time. This feat was achieved by using high-strength steel, aluminum, and other lightweight materials in building the chassis.
When it comes to engine department, you can choose, as we already mentioned, three T units. First one is a T5 turbocharged 2.0-liter four cylinder mill that can produce 240hp and has 31mpg highway rating with a current model. This numbers will be bettered with a new installment. Second in line is a T6 2.0-liter four-cylinder powerplant that comes as super and turbocharged. This unit is blessed with 302 horsepower but with improved fuel economy that now stands at 27mpg at a highway.
The new engine that will for the first time be available on 2018 Volvo XC60 is T8 Twin Engine which is, by the way, a hybrid. According to Swedish manufacturer, this powertrain will come with 400hp and will have 0-60 speed little above five seconds. This engine first debuted on XC90 and with larger of Volvo's SUV's it had 54mpg highway rating and 53mpg when in the city. The T5 variation comes with FWD as standard while AWD is an option. On the other hand, T6 and T8 come with all-wheel drive as a standard option.
2018 Volvo XC60 is a five-seat crossover that offers stylish and comfortable interior and most importantly hi-end safety systems. On the inside, you will find familiar Volvo touchscreen display, cozy layout, lots of leather, steel details and all in all interior that breathes character. The climate is an all new four-zone 'CleanZone' system which is able to remove harmful substances from the air in the cabin and replace it with what Volvo called a "Scandinavian fresh air.' When it comes to safety systems, the Swedes call this automobile, without any false modesty, one of the safest cars ever made. Just some of the features available on 2018 Volvo XC60 include semi-autonomous driver assistance system that handles steering, acceleration, and braking (on well-marked roads) up to 130 km/h. Also, it offers steering support paired to its city autonomous braking and blind-spot monitoring systems, and tech that steers you away from a potential head-on crash at up to 140km/h.
2018 Volvo XC60 Release and Price
2018 XC60 will be produced in Torslanda, Sweden, and Chengdu in Central China. The European model will start production in April so first models can be expected on the markets by the beginning of the summer. First US-bound models will arrive in the states in June. As far as the Asian market is concerned, the Chines factory will start to produce new XC60 in first months of autumn while the first dealerships model will be available by the beginning of 2018. The Swedish carmaker didn't disclose the pricing yet, despite the fact that the production almost started. Just for you to compare, the current en XC60 starts at $41,000. The new model will go north of that, but we just don't know how much dollars will that be at this moment. Stay tuned for more updates.
03/06/2017 UPDATE: 2018 Volvo XC60 should debut any day now at 2017 Geneva Motor Show and Swedish manufacturer decided to tease us some more before the official presentation. The website Autoblog.nl posted what seems to be the first photo of new and redesigned XC60. Looking at the picture, you can clearly see that this model resembles its older brother the XC90. These two models share Volvo's SPA architecture (Scalable Product Architecture) which is intended for bigger vehicles in Volvo lineup. The main advantage of this platform is that it guarantees that all new models from Gothenburg factory are going to come with fuel-efficient engines, a ton of self-driving features, and other electronic driving aids.
Despite the fact that this time Volvo teased us with only one photo, we have a few information drawn from previous teasers and spy photos made available to us by various online car magazines. First of all XC60's Thor's Hammer daytime running lights are now extended far beyond central headlight cluster, and now they reach all up to the sides of the front grille. Talking about the grill, it has decreased in size and now features much fewer chrome details compared to bigger XC90 Volvo. At the back, waterfall-styled taillights will feature LED technology as well.
We have already talked about powertrains designated for 2018 XC60, but there's nothing wrong with reminding ourselves of that. The entire lineup of Volvo's latest crossover is going to be filled with inline-4 engines. For the entry level model, you will get a T5 turbocharged 2.0-liter inline-4 with 250hp. At the far end of the lineup you will have a T8 Twin plug-in hybrid, both supercharged and turbocharged, 2.0-liter in-line-4 mated to an electric drive system. This unit will be able to produce incredible 400hp.
The redesigned 2018 Volvo XC60 will be available in dealerships by the end of the year, and it will be sold, as you can already tell, as a 2018 MY.
01/13/2017 REVIEW: The XC60 has been released in 2008 and it did not change all that much since then. The current car is still based on their P3 platform which has been around for more than a decade at this point. Because it can't really compete with the current generation of crossovers in terms of performance, a new model will be released soon enough. The 2018 Volvo XC60 will be based on the same platform as the larger XC90. The SPA modular architecture will allow Volvo to use the same engines and a similar running gear but with a new design.
New XC60 – More details
The first test mules of the XC60 have been seen a few months ago wearing interesting plastic plates as camouflage. These to cover up the car pretty good so the shape is not really readily available to the public. Despite that though, while some people suggested basically a miniature version of the XC90, this is not the case. Instead, Volvo seems to be cooking up a coupe-inspired crossover with an arched roof, a rather aggressive rake for its windshield and larger than usual wheel arches. Its competitors will include the Macan, the GLC and the X3. These are among the best cars currently on the market so it is easy to see why Volvo is trying to offer something rather unique.
The powertrain and running gear
Volvo's new SPA architecture means a much lighter and stiffer chassis than before. While the current car weighs over 4,000 pounds in most trim levels, the new car is expected to shed at least a few hundred pounds from that. It will also be using the independent suspension from the XC90 but this time around the springs and shocks will likely be focused on sportiness. The end result should still be one of the more comfortable and better to drive cars in its class. Front wheel drive is still expected on the base models but most versions will come with all wheel drive. An eight speed automatic is going to be the only available option across the range which is to be expected in this class.
2018 Volvo XC60 – Under the hood
The 2018 Volvo XC60 is more than likely going to feature the same engines currently found on the XC90. This means that a base 2 liter turbocharged inline 4 with 245 horsepower and 258 lb-ft of torque will be standard. A turbo and supercharged version of the same engine with 320 horsepower and 295 lb-ft of torque will be the option. A 2 liter diesel will also be available with 190 or 225 horsepower. It still is unclear though if this one will hit the US shores as well. The top end hybrid engine from the XC90 might also be installed on the XC60. However, this might get the Polestar badge especially since it will develop 400 horsepower.
The design of new XC60 – inside and out
So far it is quite clear that the interior of the 2018 Volvo XC60 will be very similar to that of its larger sibling. This has been the case with its rivals as well so it is not as surprising. The big surprise comes on the outside though. Like we said, Volvo is planning a coupe-like crossover which is not as wide spread as some people said. This would allow them to secure a rather big part of the market for themselves and it would allow the XC60 to be as successful as it could. Also, despite the fact it will be inspired by a coupe, from most spy shots it seems that Volvo is not sacrificing the interior of the car for looks. This would be the perfect trade-off so let's hope things will not change for the production model.