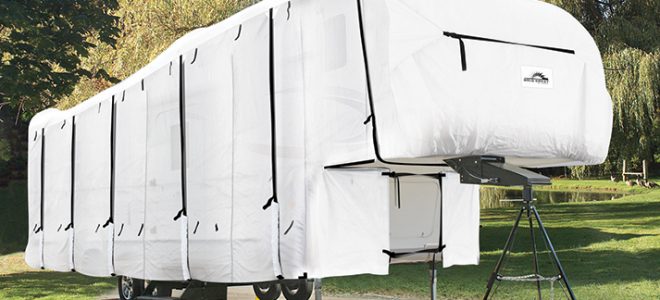 Properly storing your costly RV is everyone's priority but not everyone can have that indoor storage or can rent out a big enough space for their RV. With RV covers that can cost you even less than $200, it's a great option to protect and cover your RV. May it is winter snow, rain or the sun's rays, RV covers can come handy in keeping your RV safe and pristine.
It is worth it to get a cover, It can save your RV from all kinds of problems. Most RV owners stop or avoid using RV covers because of the efforts needed to put them off or on. And also, the covers may tear only after using them only a few times. But, having proper quality cover can make it much easier to use while keeping your RV safe.
Benefits of using RV covers
A lot of people may not agree with this statement, but yes, you do need a cover for every season. May it is winter, summer or spring, an RV cover can be of great help. This applies to RV owners who do not store their RV in a garage or indoor. Winter times may be more serious and if you live in a place where there is always high snows, then you better be prepared. Here are some of the advantages you can get out of a cover.
If you are looking for RV covers so you can protect your brand new recreational vehicle from any extreme weather, we recommend that you check out carcover.com
Protects against UV radiation
Summertimes can damage your vehicle if you do not keep it properly. The roof can get seriously damaged because of UV radiation from the scorching sun.
This means that winter or fall is not the only season where you need to keep your RV protected. Keeping your travel trailer under that bright sun can also cause the temperature inside the RV to spike up. This protective and thick layer can help you keep cool during the hot summer days.
Keep dust or dirt away
A brand new RV needs only a few days of dirt and dust to ruin the paint. Having a quality cover can keep your RV away from dirt and you will not have to clean it every single week. If you park your vehicle in dry areas with a lot of dust, you should definitely think about covering it.
While putting up a cover on such a massive vehicle may be a hassle, a long time parked RV must be covered if you want to avoid any continuous damage.
Protection from snow
Nothing can be worse than a few feet of snow on top of your RV since the constant moisture can damage your paint or even insulation and spring a leak. A leak inside of your RV can damage a lot of your equipment inside like your TV, mini-fridge or anything else electronic that is precious to you.
Using an RV cover during the winter and snowy days will make sure that your vehicle and roof will stay completely safe from any damage.