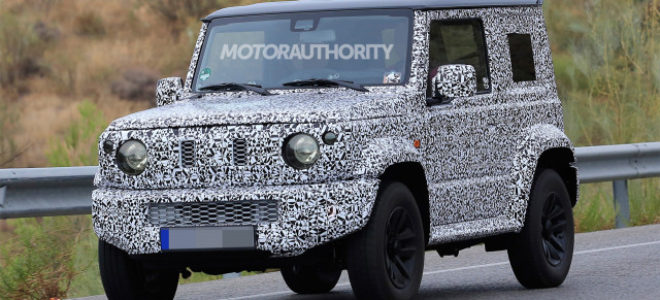 Suzuki released the ongoing Jimny all the way back in 1997, so the car is two decades old at this point. Even so, it still manages to sell relatively well thanks to a rugged design and a really capable four-wheel drive system. Unfortunately the car is no longer going to be compliant with the latest safety and emissions standards. Thankfully, it looks like Suzuki is well aware of that. Not that long ago they released a set of renders which give us a pretty good idea about what to expect from the 2019 Suzuki Jimny. The car is likely going to be just as capable as before while offering a far better on-road experience. Just like with its predecessor, Suzuki will likely offer the car in two versions. There will be the Japanese-market model, which will be narrower, and the export version with larger wheels and fender flares.
While some said the new Jimny will go for a unibody design, it looks like this may not be the case. Even though the manufacturer didn't confirm it, we can clearly see from the spy shots that the new Jimny has a really similar suspension design to the older car. We can see live rear and front axles as well as what seems to be a chassis beam. While this is not ideal for on-road use, it means the Jimny will remain as capable as ever when having to go in off-road. With the new model we can also expect larger brakes and hopefully a more compliant suspension setup. The latter should allow the Jimny to be a bit more civilized on the road.
2019 Suzuki Jimny Price and release date
Considering the state the development prototype looked to be in, we can expect the 2019 Suzuki Jimny by the end of 2018. Suzuki will likely retain the same pricing scheme as before. By selling it at roughly €14,000, Suzuki would have a really capable SUV without all that much competition to face.
Under the hood – 2019 Jimny Specs
The ongoing model comes equipped with a 1.3 liter naturally aspirated inline-four engine. Some markets also get a 1.5 liter diesel, provided by Renault, which is a bit more economical but not that great when it comes to driving characteristics. If the rumors are true, the 2019 Suzuki Jimny will come equipped with a 1.2 liter naturally aspirated mill. This tiny engine is known to make nearly 90 horsepower and 88 lb-ft of torque which is quite a bit more than its predecessor. The interesting part would be that this engine would also provide better fuel economy thanks to a direct injection system.
Some also said that Suzuki's 1.0 liter 3 cylinder turbocharged mill is also a real possibility. With up to 109 horsepower and 125 lb-ft of torque, this tiny engine would give the Jimny the performance it needs to excel in off-road. No matter the case, we can expect a 6 speed manual gearbox which will drive all four wheels as standard. Some markets may receive a rear wheel drive model but nothing has been confirmed so far. It still is unclear if the car will receive an automatic transmission but considering the past, this is quite likely.
The design of new Jimny
The current generation still looks quite good in comparison with most other cars released in 1997. In order to keep the feel of the car unchanged, Suzuki will give the new Jimny an even more unusual look. Instead of going for something more modern, the 2019 Suzuki Jimny will boast a design quite similar to the second generation of the SUV. This boxy-appearance will with round headlights, an off-road inspired bumper and massive fender flares will allow the Jimny to impress on the road. Just like before, the spare tire will remain mounted on the exterior in order to save as much space as possible.
The interior of 2019 Suzuki Jimny
Unlike its exterior, the new Jimny will feature a more restrained cabin. The boxy appearance will remain but the car will feature a well laid-out dashboard with a large LCD screen for its infotainment system and a minimal amount of buttons. Thanks to this, the new Jimny should appeal to a much broader audience which should allow Suzuki to finally get ahead of some of their rivals. The only drawback we see with it has to be the rear seats which are quite small.