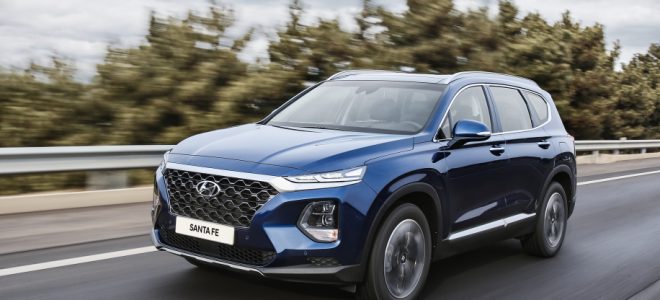 A two-row 2019 Hyundai Santa Fe is officially here and is ready to go head-to-head with the likes of Ford Edge, Nissan Rogue, and Toyota RAV4. The bigger 3-row Santa Fe will come at a later date and will have adversaries in the shape of Honda Pilot and Ford Explorer. The SUV segment is getting bigger and more competitive with every passing day so Hyundai's new baby will have a lot to prove. But, according to officials from a South Korean company new 2019 Santa Fe is more than ready to answer its rivals.
The updates on new Santa Fe are many, and this vehicle is now a real SUV in every sense of that word. Its new boxy and bulky design, with touches of elegance, secludes it from today's SUV market. It has satisfying size and those design traits that say but not scream far-east. There aren't any sharp lines on the exterior or pointy edges that are a trait of almost every crossover on the market. With all of the novelties, the car managed to retain some of its old charms such as flat roof and nearly vertical rear end.
The interior of 2019 Hyundai Santa Fe is very thoughtfully designed. The materials used are not of the highest quality, but the design itself makes up for it. Everything is very well organized from the central stack to gear-box and infotainment system. Seats are comfortable, and visibility from the cockpit is without a pair. The rest of the cabin is very suitable for all of the passengers that will notice dark plastic details mixed with polyurethane leather. Like we said materials are not luxury but bode well with new Santa Fe.
Under the bonnet, you will find a 2.0-liter diesel, but this engine will power 2019 Santa Fe only in Korea. The units intended for US market are a gasoline 2.4-liter inline-4 equipped with 185hp and 178 lb-ft of torque and a 2.0-liter turbo four capable of producing 235hp and 260 lb-ft. On a later date in 2019 even the US is expected to get a 2.2-liter turbo-diesel that will come with 190hp and 322 lb-ft of torque.
So, the engines differ among the markets, but transmission remains the same for all. The gear-box we are talking about is an eight-speed automatic. The power can be transferred to two and all four wheels. With new engines in the lineup and two additional gears available we will see how new FE is going to handle US roads.
New infotainment system which functions through touchscreen is quick and responsive. In addition, there are push buttons on the sides of the display that are used to control the navigation. Central stack display is aided by a head-up one which is useful when you are using navigation. Out of driver assistance features new 2019 Santa Fe offers adaptive cruise control, lane keep assist and a rearview camera.
Some features are entirely new for this model. Safe Exit Assist system is one of them. This feature prevents passengers opening doors if the SUV detects a car coming from behind. Another one is Rear Occupant Alert which informs the driver if someone on the back of the car left their seat. This applies to pets and children. The car will sound an alarm if this happens.
11/10/2017 Update: There must be a reason for why is Hyundai testing its Santa Fe with sports seats. The South Korean automaker is at Nurburgring testing its 2019 Hyundai Santa Fe. This wouldn't be odd by no means; it's just that the prototypes are featuring Recaro seats.
Another thing that we have noticed on the latest set of spy photos are the headlights. They are of the same type that's debuted on Hyundai Kona. The grille will also be shaped similarly to its smaller sibling. Also, the overall size of the vehicle looks larger than on the ongoing model. The general appearance gives away the impression of a new and more muscular design.
With all of this combined, we have concluded that Hyundai might be testing a sports version of its Santa Fe. The test drivers didn't go easy on the SUV. They have pushed the vehicle to its limits, bending it at the corners of the famous German track. Another scenario might be that Korean company is looking to add some sporty upgrades to its regular model. None of this was confirmed by the company's officials, so we will just have to wait for the release of 2019 Hyundai Santa Fe to know more.
What we know is that Hyundai is going to introduce a larger Santa Fe to its lineup. The new SUV will be able to accommodate up to eight passengers. New versions will probably be given new names, because people from the company doesn't want to confuse their customers. They believe that people will make no difference between five-seat and seven-seat Santa Fe.
Regarding the units that will power 2019 Santa Fe we also don't have too many information. Down below in the article you can read our estimations. What we expect are all-wheel-drive and front-wheel-drive configurations, but regarding engines, Hyundai has kept silent.
06/22/2017 UPDATE: 2019 Hyundai Santa Fe was caught testing once again. The engineers from Korean automaker aren't standing still. The Santa Fe SUV is one of the most important vehicles in their lineup, so they are doing a thorough job. The prototype spotted was a larger three-row SUV, but two-row Sport edition is also in the works. There are rumors that Hyundai wants to breathe life into Veracruz nameplate for their three-row SUV, but there's nothing official for now. This name was off the market since 2012.
Just like we stated earlier the design of 2019 Hyundai Santa Fe wouldn't stray too far from the ongoing model. Nonetheless, there are some easily noticeable differences. First thing, the side mirrors are now attached to the doors. On the current version, they are stationed on A-pillars. The headlights also have a new pattern. The daytime lights are now stacked closer to the lower end of the hood. At the same time, main projectors are moved down and have an upright stance. The Santa Fe is going to adopt new Hyundai design fro SUVs. It will be similar to what we have seen on the recently released Kona compact crossover.
Also, the grille of the 2019 Hyundai Santa Fe will have a familiar look. Recently this Korean manufacturer launched new grille scheme which started with Elantra GT. Regarding the powertrains, it's too early to speculate. Expectations are that three-row version will boast V-6, while two-row are going to stick with inline-four units. FWD will be a standard feature o all variations, while the all-wheel-drive will come as an option.
With slightly new design, and reliable setup 2019 Santa Fe should hold its ground against rivals. Most notable foes include Ford Explorer, Honda Pilot, Kia Sorrento, Toyota Highlander, Volkswagen Atlas, and Subaru Ascent.
New edition of Santa Fe SUV is scheduled for 2018 debut, and 2019 release. Stay with us for more information.
05/25/2017 Review: The Santa Fe is one of Hyundai's best selling vehicles across the world. The car is currently available in two different versions. There is the short wheelbase model with 5 seats and the long wheelbase version with 7 seats. Even though the two are basically the same car underneath, there are different engines available for each of them so Hyundai treats them like two different cars. However, this might change with the upcoming 2019 Hyundai Santa Fe.
Even though the car hasn't been confirmed at this point, it has been seen testing in the wild wearing heavy camouflage. Despite what most of the early rumors suggested, it seems it will receive more of an evolutionary than a revolutionary design. Expect it to be based on a revision of the same platform but we do expect new engines as well as a completely revised running gear. The end result should be a better car to drive that will be just as comfortable as ever before.
The car seen testing a while back looked a lot like the long wheelbase model in terms of size. However, even though this might have been true, it was vastly different everywhere else. For starters, the car had much longer front and rear overhangs. Its ground clearance also seemed to be slightly taller than that of its predecessor. The disc rotors seem smaller than before and so far it seems the car might come with smaller 17 inch rims as standard. This change is likely because it weighs considerably less than before which would allow the 2019 Hyundai Santa Fe to meet all of its goals without becoming too expensive.
Price & Release date of 2019 Hyundai Santa Fe
The South Korean company is doing everything in its power to bring the new Santa Fe as soon as possible, but the ting is that this SUV won't be out anytime soon. According to sources such as motortrend.com, the release date of 2019 Hyundai Santa Fe is set for late months of 2018. This term stands for showroom appearance. The sales are expected to start early in 2019 or even beyond that. So, the photos that we have apparently show a new model of this vehicle but in its early stages of growth. There is a long road ahead of us but stay with cardissection.com, because we will keep you updated.
The information about price is, at this point, unavailable. Namely, because it's hard to determine the value of the vehicle, which is set to arrive in almost two years from now. Just to make a picture a bit clearer the current generation of Santa Fe starts at $29,600 and the price range stretches all up to $47,600. Depending on the engine, fuel choice, equipment quality and quantity the prices vary a lot with this model. This was the goal of Hyundai because they wanted to make this vehicle affordable to a broad diameter of customers.
2019 Hyundai Santa Fe Redesign
Even though it was camouflaged, the prototype gives us a good idea about the car's front end. Here it seems that Hyundai decided to split the headlights and LED daytime running lights into individual units. This setup is quite close to that of the Kona concept, meaning that Hyundai is readying to offer the same corporate look on all of their cars. There are other subtle changes as well. The mirrors have been mounted on the doors instead on the A-pillars. The rear doors seem to be wider than before while the roof definitely seems to have a small arch to it. All of these should make for a considerably more aggressive-looking crossover than before which would be in trend with most of the other cars on the market.
The dashboard is more than likely going to be designed from the ground up. While the current model is fine, it looks a bit too dated for today's market. The upcoming 2019 Hyundai Santa Fe will likely get a less-curvy design more in line with some of the European offerings. We can also expect a fully digital instrument cluster, a larger navigation and infotainment screen as well as better materials. Both the front and middle seats should get just as much roof as before. However, the third row of seats is expected to get more legroom than before thanks to the new platform. The Sport version of the car will likely receive a bigger trunk but the same design as its larger sibling.
2019 Santa Fe Specs
Here the 2019 Hyundai Santa Fe is expected to still get a V6. Even though downsizing is the way to go, there are still people out there loving large engines. Expect it to receive the same 3.3 liter naturally aspirated V6 as before. Hyundai may also go on the turbocharging route with this engine in which case the output would increase while decreasing the fuel consumption on the highway. In any case the car will make more than 300 horsepower allowing it to hit 60 MPH in less than 7.0 seconds. The old 6 speed automatic will likely be replaced by a 7 or 8 speed gearbox.
The Sport version of the car is likely going to receive two turbocharged engines. The 2.4 liter mill will likely be replaced with a smaller 1.5 liter turbo-four offering close to 190 horsepower. A 2.0 liter turbo-four with over 240 horsepower is also going to be available on the higher end trim levels. Just like with its larger sibling, a 7 or 8 speed automatic should replace the aging 6 speed gearbox. Front wheel drive will be standard on both with an optional all wheel drive system.