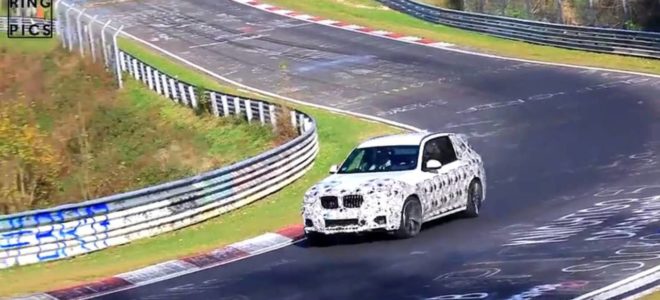 BMW sprouted massive news with M40i when new X3 was introduced earlier this year. But, worry not the German carmaker has another ace up their sleeve. They are already prepping new big crocodile in Munich pond, and it will come in a shape of a 2019 BMW X3 M. The X3 M was only mentioned in September when regular X3 was shown, but in the mid-time, some concrete steps were taken. This was additionally confirmed by the spy video which you can see below.
The Nurburgring is the place where Euro automakers go to fine tune their vehicles. But, new 2019 X3 M is only in early stages of development, which you can conclude by heavy camouflage that is covering this SUV. Regardless of this, we can easily tell just how will it look. Think BMW X3 M40i, with a bit more aggressive bodywork, and more massive air vents. Add enormous side skirts, bulkier wheel arches, and quad exhaust pipes, and there you have it.
Its main competitor, Mercedes-AMG GLC 63 possess a V8 engine, but 2019 BMW X3 M will just have to make it with a six-cylinder mill. The unit we are talking about is a biturbo 3.0-liter with a 430-450 horsepower output. If the latter number turns out to be the right one, then this vehicle will have 100hp more than its M40i sibling.
In addition to differences between M40i and the upcoming BMW X3 M, we have already mentioned there will also be larger wheels and stronger brakes to restrain the engine power. Like with similar models a stiffer suspension will be incorporated, which will with upgraded chassis improve the handling.
2019 BMW X3 M
Now that you have had the first taste of 2019 BMW X3 M you probably wonder how much is this beauty going to cost? Well, the model hasn't been officially confirmed, so we can't tell you the exact price. What we know is that X3 M40i is priced at $54,300, and you will have to part with more than this for X3 M. Also, we have one good novelty, and one bad. The BMW X4 is probably going to get an M treatment, while the X2 and other BMW's front-wheel-drive vehicles won't.