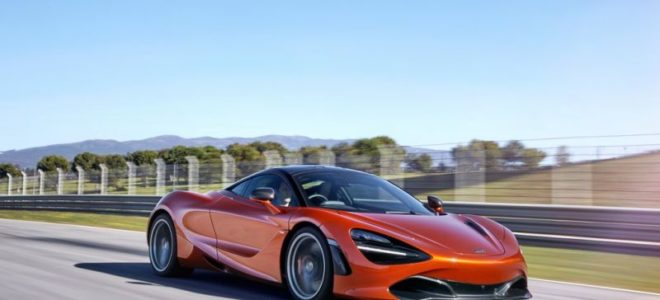 03/29/2017 UPDATE: We have waited, and now it is finally here. 2018 McLaren 720S had its worldwide debut at 2017 Geneva Motor Show. This car belongs to the second generation of this British manufacturer Super Series. According to McLaren, this vehicle pushes each and every standard set by previous supercars regarding speed limits and performance. The Chief Executive Officer of McLaren Automotive Mike Flewitt stated the following: "Super Series is the core of the McLaren business and personifies the blend of extreme performance, crafted luxury and unparalleled driver involvement that is the McLaren heartland. This is the first time we have replaced a product family, and the new 720S is absolutely true to McLaren's pioneering spirit in being a revolutionary leap forwards, both for our brand and the supercar segment."
With its official revealing, it was confirmed what was long rumored. The latest model from Woking factory is featuring mesmerizing 720PS, and hence the name. This is the first, of many to come, vehicles from second-generation of Super Series, so it remains to be seen how much further will McLaren push the power limits for their cars.
2018 McLaren 720S comes as a direct successor to the 650S, but it is faster, lighter, and with better aerodynamics. On the inside, it offers space and comfort which is not available in any of the previous McLaren models and even in any of the competitor's cars. The sheer driving ability that this vehicle offers will thrill every driver because it represents everything that a supercar needs to be. It has unique McLaren design cues; it has aerodynamics as its first principle, it is beautiful and almost flawless, and is by far the most advanced McLaren so far.
When you look at the new 2018 720S, you will notice the absence of radiator intakes which were always positioned on the sides of the car. Those are now gone and are replaced, and instead, you have original dihedral doors that are aerodynamically built in order to channel the cold air to the mid-mounted engine.
The new M480T is a new unit in McLaren's highly successful range of twin-turbo V-8 engines. The new unit is a 4.0-liter one, and it is constructed of 41% new parts and 59% parts from the old 3.8-liter which it replaces. The maximum output of this mill is 720PS and 770Nm of torque. When it comes to the performance, it is to put it in one word – Incredible. 720S needs less than 3 seconds to achieve the speed of 100km (60 miles) from a standstill, while with the addition of another 5 seconds the vehicle will achieve the speed of 200kmh (124mph). The maximum speed for this monster car is 341kmh (212mph). The opposite type of performance, braking, is equally astonishing. From a speed of 200kmh to standing still position it goes in only 4.6 seconds. The distance that it covers in that period is 117 meters. In addition to its ability, it is also good in terms of fuel efficiency (10.7 liters/km) and CO2 emissions (249g/Km).
2018 McLaren 720S

Dimensions And Weight

Wheelbase
105.0 in
Length
179.0
Height
47.0 in
Width
85.0
Weight
3,128 lb

Engine And Transmission

Engine type
4.0L twin-turbo DOHC 32-valve V-8
Displacement
N/A
Power/torque
710 hp @ 7,500 rpm, 568 lb-ft @ 5,500 rpm
Transmission
7-speed dual-clutch automatic

Performance

0-60 mph
2.8 sec
Top speed
212 mph

PRICE RANGE:$275,000




Competitors:2017 Ferrari GTB 488, 2018 Lamborghini Huracan , 2019 Porsche 911, Ferrari GTC4 Lusso

2018 McLaren 720S Price and Interior
All of this couldn't be achieved without McLaren's genuine expertise in carbon fiber structures. All of the cars built by this company since 1993 have been constructed solely on carbon-fiber chassis. Same goes for 2018 McLaren 720S which is underpinned by this type of frame. Actually, entire model was built around McLaren Monocage II. This structure is perfect for every supercar because it is extremely durable, strong and above everything it is lightweight. Some parts of the car, body panels, and pieces of the interior are also made from aluminum.
Tech wise new 720S comes with new suspension system, McLaren's power-assisted elector-hydraulic steering which has an immense effect on the grip, car balance, performance and dynamic abilities. On the inside, you will find a hand-made interior with extensive use of leather and aluminum. On the center console, there is McLaren Driver Interface which consists of Folding Driver Display and Central Infotainment Screen. The combination of equipment, room, comfort, and visibility in 2018 McLaren makes it one of the most complete supercars offered for purchase in the World.
2018 McLaren 720S comes with a starting price of $275,000, and it will be available in the dealerships from May.
02/25/2017 UPDATE: After the latest spy shots, now we have in our hand's something that can be called an official photo of new 2018 McLaren 720s. The photo was leaked by an Instagram user named lamborghiniks aka Kris Singh. We can't say how did he get his hands on it or did he took the photo but the 720 s looks nothing short of amazing.
The exterior itself despite looking mighty fine is just an evolution of existing design lines already seen on previous McLaren models. Looking at the front end, you will notice triangular headlights that give this vehicle an extra dose of menace. Unfortunately, we don't have a look at the rear end be regardless of that the car is a beauty in all the deepness of that word.
As we stated earlier, this model is the latest supercar in British-manufacturers Super Series, and it will replace the outgoing 650s. Also, it doesn't hurt us to say again that McLaren 720s is going to be powered by an updated twin-turbo 3.8-liter V-8 capable of producing 720 metric horsepower (710hp in the United States of America) hence the name. Some other sources stated that the power could come from an all new twin-turbo 4.0-liter V-8 which was allegedly developed for 720s. This engine would be able to work with McLaren's new modular system. This info was nor confirmed nor denied by the Woking-based company.
All of the information will be known after the 2017 Geneva Motor Show (from 9th to 19th of March) where the 2018 McLaren 720s is going to be presented.
01/27/2017 UPDATE: The job of replacing 650 s with new 2018 McLaren 720s is already well under way. The debut of latest British supercar is expected at 2017 Geneva Motor Show. The on-road testings are being conducted for some time now, and today we have a new set of spy photos. The code name for this model is P14, but we can already say that the hypercar is going to carry a 720s moniker which is a wink at its 720 metric horsepower (710 hp).
The 720 s is first, of many to come, McLaren's vehicles which will all be part of its Super Series. The exact number of models which will composite this lineup is 15. The plan for this series was announced at last year's Geneva Auto Show.
720s will reap benefits of McLaren's all-new monocoque carbon fiber structure named Monocage II. This new structure will lower the weight of the car and will make it more stiffer and rigid than it was the case with current MonCell structure which is Super Series currently build on. The stance will be even lower, like that's even possible, so the entering/exiting will be made a lot easier. The changes don't stop there. All of the significant numbers will be improved as well. Aerodynamics efficiency will be up to 50% compared to 650s; Downforce will be doubled down by the same amount, so the vehicles grip and stability will be a lot better. At the end, which is crucial for a car with an engine of 720 horsepower, cooling will be improved by 15%.
Together with this model, McLaren is also working on next model in series, currently labeled as P15, but as we wait for the official presentation of 2018 McLaren 720s and this new P15 let's take a look at latest spy photos of 720s.
The Mclaren super series are about to get a completely new model. The mentioned model will be a successor to the 650 S but only because it is next in line of McLaren models. In reality, it will be a new model built from scratch. The prototype of McLaren's latest supercar has been spied for some time now and it has been referred to by its code name – P14. The sources from Dutch auto magazine Autogespot are saying that new model will be presented at the 2017 Geneva Auto Show and will be named 2018 McLaren 720S.
2018 McLaren 720S Exterior
From what can be seen on the spy photos 2018 McLaren 720S will take a rather revolutionary design step-up comparing to the 650S. The size will be similar to the cars that 720S succeeds but it will be lighter thanks to the new platform. The front end will keep some of the 650S design cues but it will feature more angular shape. Headlights will be positioned at the corners of the car and not on the fenders. From the side, the body panels will be simpler. Beltline is positioned lower and this makes the cabin look more narrow. Side skirts and rear fenders have been deprived of vents. Our assumption is that McLaren has some new cooling system in mind.
The rear end will be flatter compared to 650S and this prompted taillights to be slimmer. Exhaust pipes will be centrally positioned and will feature round shape. The small wing on 650S is non-existing on 2018 720S or it will be replaced by something else. From the prototype photos, not much can be concluded. With all of this stated, it is obvious that 2018 McLaren will have more aerodynamical and aggressive look.
Engine options
720 is a clear indication of just how powerful this car will be. The McLaren's latest supercar will boast 720 horsepower. This sounds like it's a lot but it shouldn't represent any problem for M838T V8 engine that will be under the 2018 McLaren 720S hood. This new powertrain is actually twin-turbocharged 4.0-liter V8. The main purpose of this engine replacing old ones is as following. The new engine is created in such manner that it can easily be integrated into McLarens' new modular hybrid system. This engine is aimed to replace all British manufacturers 3.8-liter engines that are currently being used.
Interior of 2018 McLaren 720S
Also, according to Autogespot, the interior will go trough major overhaul. This especially goes for the dashboard. The informations are suggesting that dash will have an option of 'automatic lowering' which will be applied every time that driver enters track mode. This will enable him to have the best possible view of the track while racing. Lowering of the dashboard will not influence visibility of the rpm, oil pressure, and current gear. Dutch magazine also claims that dash will be more streamlined than it's the case with current models. Most, if not all controls, will be handled by the main instrument cluster and controls mounted onto the steering wheel.
Price and Release date of 720S McLaren
2018 McLaren 720S will be, in addition to new engine and improved interior, faster than its internal and outside competition. Sources from McLaren suggest that 720S is going to be faster than 650S and 675LT by an inconsiderable margin. When we heard this, it made us very impatient to wait for its debut.
The debut will be as we already mentioned at 2017 Geneva Auto Show. The event in previously mentioned Swiss city starts on March 7th. With only three months to go nothing specific about price hasn't been mentioned but wee suspect that it will go a little above current 650S model. McLaren 650S currently costs around $265,500.