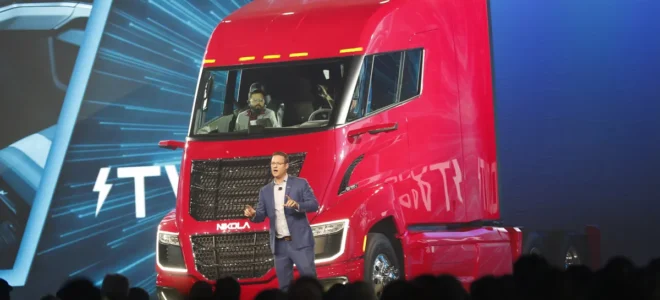 The automotive industry is witnessing a rapid shift towards electric vehicles, and four prominent manufacturers are making significant strides in this direction. Isuzu, Rizon, Ford, and MAN are introducing exciting new electric truck models that offer impressive features and capabilities.
These models promise to revolutionize the market and pave the way for sustainable transportation solutions. Let's explore the key details and innovations behind each of these groundbreaking offerings.
Isuzu Class 5 N-Series EV
Isuzu made its debut in the competitive battery-electric final-mile market on Wednesday at the National Truck Equipment Association's Work Truck Week in Indianapolis. This field is primarily dominated by commercial van startups.
Isuzu's first all-electric production model, the Class 5 N-Series EV, is set to hit the market in mid-2024 for the 2025 model year.
It boasts a robust gross vehicle weight rating of 19,500 pounds, wheelbases ranging from 132.5 to 176 inches to accommodate different body lengths, and features an all-new cab design.
In addition to the NRR EV, which is the electric variant, Isuzu offers N-Series siblings powered by a 6.6-liter gasoline V8 or the 4HK1-TC turbo diesel engine.
Very soon, all these new N-series EV models of Isuzu will be available at heavy duty truck dealers like https://www.maximinc.com/.
Rizon e18L, e16L and e16M
Rizon has plans to release three truck models, namely the e18L, e16L, and e16M, in 2024. The e16M comes with two packs totaling 83 kWh, offering a range of up to 110 miles on a single charge.
On the other hand, the e16L features a three-pack combination with a total capacity of 124 kWh, enabling a range of up to 160 miles. In terms of charging, Rizon vehicles will utilize the J1772 CCS combo charger port, allowing for both AC and DC Fast Charging.
These trucks will be well-suited for various medium-duty applications, including flatbeds, dump beds, reefers (refrigerated cargo boxes), dry vans, and more.
Rizon's primary focus is on urban areas with short-distance drives and frequent stop-and-go situations. Therefore, the company will primarily target retail logistics, last-mile deliveries, and municipal work.
Ford F-650 and F-750 Models
Ford will launch F-650 and F-750 gas trucks in 2024, equipped with the remarkable and exclusive 7.3L V8 gas engine. These trucks boast impressive GCWRs of up to 50,000 lbs. and GVWRs reaching an impressive 37,000 lbs.
Alongside their robust capabilities, they also incorporate advanced Driver-Assist Technologies10, including Lane Departure Warning39 as a standard feature and the option for available Forward Collision Warning10, among others.
The 7.3L V8 gas engine is a testament to Ford's commitment to excellence, designed and built with immense pride. Delivering a commanding output of 335 hp at 3,750 rpm and an impressive torque of 468 lb.-ft. at 3,750 rpm, this engine reigns as the largest in its class.
The engine also features a variable-displacement oil pump, extra-large main bearings, a forged steel crankshaft for exceptional durability, and piston cooling jets that effectively manage temperatures under heavy loads.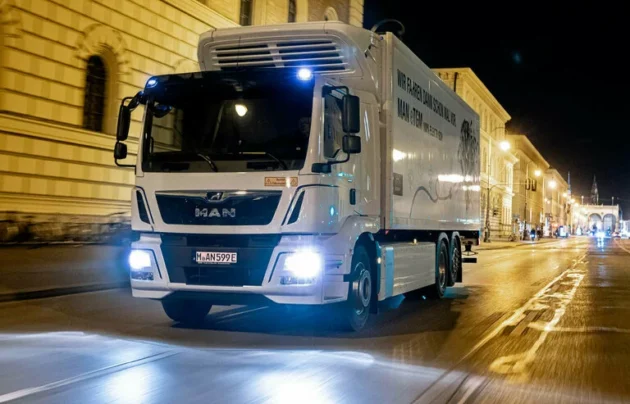 As the future of transportation takes shape, MAN has unveiled plans to introduce long-range electric trucks in 2024. MAN's forthcoming long-range electric trucks are poised to revolutionize the industry, offering businesses an electrified solution with significantly extended travel capabilities.
By pushing the boundaries of electric vehicle technology, MAN aims to drive forward the adoption of sustainable transportation and deliver exceptional performance to meet the evolving needs of the market.
Offering a glimpse into their ambitious vision, the company hints at an impressive range of 500 km (311 miles) initially, with the promise of even more range enhancements in the future.
Conclusion
As the automotive industry embraces electrification, manufacturers like Isuzu, Rizon, Ford, and MAN are at the forefront of revolutionizing the truck market with their innovative electric models.