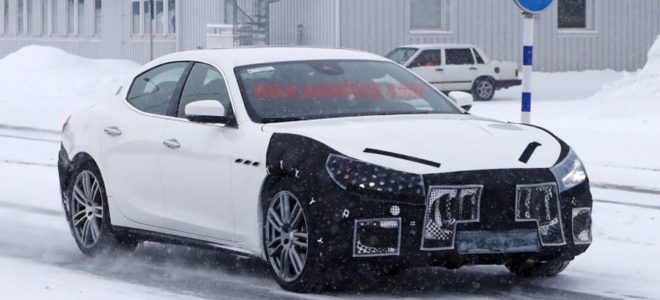 In order to expand their customer base and become a larger luxury car manufacturer, Maserati released the Ghibli a while back in order to compete with its German rivals. While the car is usually more expensive than its direct rivals, this is also because the Ghibli also gets more powerful engines as standard. Unfortunately the Ghibli did not sell as greatly as Maserati hoped. One of the main reasons for that was the poor build quality inside the cabin. It also didn't look as good as some people hoped but things changed for the better. It seems that the car will receive yet another update with the 2018 Maserati Ghibli. This new version has already been seen testing wearing light camouflage and things do look interesting. For starters, it seems that the exterior might not be the only change.
2018 Ghibli price, Chassis and Running Gear
If the rumors are true then the 2018 Maserati Ghibli should also receive new trim levels and possibly a revised interior. With the better build quality, which has been expected for a while now, the Ghibli might have what it takes to become a winner. So far Maserati hasn't released much information about the car. We do know that the price won't change much. The base model is still going to cost right around $70,000 with the top end models going well past $100,000. While being slightly expensive, the Ghibli is usually worth it for the rather unique engines and look which definitely stands out.
Many complained that the Ghibli was a bit too soft for a four-door super-car. However, Maserati worked quite a bit in order to make it better to drive than most other cars out there. We have no doubt that the 2018 Maserati Ghibli is going to boast the same great driving characteristics as its predecessor. These will be thanks to its Quattroporte-derived platform and sports-car derived suspension system. As an option the 2018 model will still be available with Maserati's great adaptive suspension. As standard it will get four-pot calipers in the front while the S models will go even further. Some even suggested that Maserati might actually add carbon ceramic brakes as an optional extras which were previously unavailable.
Maserati Ghibli 2018 Specs
The 2018 Maserati Ghibli is going to hit the market with two 3 liter V6 engines. The twin-turbo gasoline unit will be available with either 345 or 404 horsepower and between 369 and 406 lb-ft of torque. The 3 liter V6 turbo-diesel is currently available only in Europe but things may change in the future. This engine currently makes 271 horsepower and 420 lb-ft of torque and we doubt it will change much. All of them will be mated to an 8 speed automatic driving the rear wheels. The only all wheel drive model will likely remain the top end S Q4 which will boast the more powerful twin-turbo V6. Having the same engines means that the 2018 Ghibli won't be much faster than the current model. Luckily though speed hasn't been a problem so it should do just fine. With the help of the rumored revised steering system and larger carbon brakes, the car should easily be one of the faster models around.
Exterior and Interior of 2018 Maserati Ghibli
It seems the 2018 Maserati Ghibli won't look like the ongoing model which is quite interesting. The camouflaged model had black covers on the front and on its rear end. Through them we can clearly see a similar quad-exhaust system and identical tail lights to what is currently available. However, both the bumper and the trunk lid seem to be new. In the front the car definitely seems to have new headlights as well as a new grille. The bumper seems to be more aggressive than before but the camouflaged model might just be an S model with the sports bumper.
Besides these changes we also expect more customization options from Maserati which should please most of their newer customers. The interior of the car is likely not going to change much. The dashboard will likely feature the same curvy design as before which has been a Maserati trademark for more than a decade. The infotainment system has been updated quite recently so we doubt things will change much. The only notable upgrade here might be the addition of a better set of seats, especially since the old ones were some of the worse in its class.
2018 Maserati Ghibli Release date
The Ghibli as we know it today was released back in 2013 as 2014 model and the time is about right for some changes. Like we already stated in the article the work on 2018 MY already started, but Italian manufacturer won't rush things. Despite the fact that almost all of the competitors released new or updated models it is a wonder that Maserati is not rushing things. Being a mild facelift, this model is not going to be totally revamped so why the delay? We don't know but the release date of 2018 Maserati Ghibli is scheduled for late 2017, and according to some sources it could be postponed for the start of 2018. With a wait almost one year long we can expect for this car to finally correct all of its flaws.
Main Competitors
We mentioned that competitors suited up for Ghibli and are readily, just as us, waiting for it to come. When it was introduced back in 2013, this model was primarily aimed at German luxury brands, but so far it didn't put up much of a fight. Today, it has not only Deutch adversaries but them and also quite a few other rivals. That is the main reason for why Ghibli wasn't an instant success. The competition was just too fierce. And how it wouldn't be when it consists of premium brands and their models such are Audi RS7, Cadillac CTS-V, Audi A6, Audi S7, Porsche Panamera, Porsche Panamera Turbo S, BMW 6-Series Gran Coupe, Infiniti Q70, Jaguar XF, and Mercedes-AMG CLS63 S 4Matic.