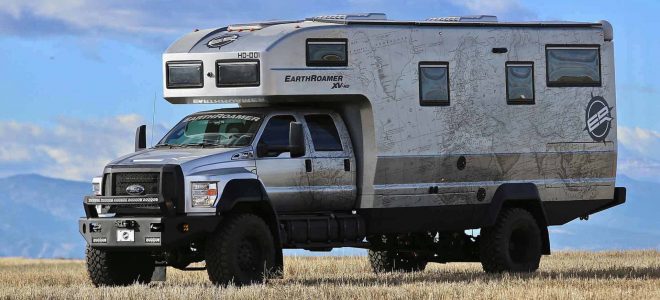 Many of us would like to experience some kind of exciting adventure at least once in our lifetime and many people around the world are looking for ways to experience it. This is one thing RVs are great at providing. Whether you are looking to take a trip and spend a few months on the open road or you are looking to make it a full-time thing, recreational vehicles are not only fun but also provide all the essentials you find in a home as well. After all, there is a reason why many refer to this type of vehicle as a house on wheels.
An increasing number of individuals, especially couples are choosing this new and exciting lifestyle and some are even opting for a more unique experience – buying and traveling in off-road RVs or converting school buses into small houses, something that is known as skoolies.
But why would one choose to constantly drive around and never settle in a single place for long? Well, the answer is different for each person, however, it is a unique way to live that can provide a different kind of freedom one would not be able to feel otherwise.
Others might just want to experience the lifestyle short-term, choosing to spend some time surrounded by nature, away from the hustle and bustle of towns or cities and everyday life.
So, if this is something you are interested in and if you are starting to consider making a change yourself, here are some of the best off-road RVs that will allow you to have fun and relax, at least for a little while.
1. Safari Extreme 4×4 (Global Expedition Vehicles)
The company designs and builds RVs from full and medium-sized trucks. With this model, one can cross 2,500 miles thanks to the 280-gallon fuel tank. Although the cabin is on the shorter side, it still contains many amenities such as a shower and full bathroom, countertops, dining area, and a refrigerator with a freezer.
2. XV-HD (EarthRoamer)
This recreational vehicle is perfect for those who enjoy going on exciting expeditions since it is designed to easily move over areas such as the muddy wetlands or high mountains. What makes them even more special is that they are powered by solar panels located on the roof, meaning there is no need for a generator.
The cabin is quite spacious, built to accommodate up to 6 people and the interior is really luxurious. You can find commodities like a surround-sound entertainment system, wood cabinets, floor heating, leather furniture, and much more.
However, only a few of them have been manufactured until now, so it mind be hard to find one to buy, especially since they are also expensive.
But if you would like to have the same things the XV-HD offers, you can opt for an alternative and make your own house on wheels by buying a school bus and converting it into a tiny living space. You can watch online video tutorials to help you with your project and read blogs such as Skoolie Livin which offers guides and reviews on the best skoolie products and items you can buy and add to your living area.
3. KiraVan
If you are planning on traveling with your children, this model and brand is probably the most kid-friendly one you will find on the market. The tractor-trailer has been modified, is high-tech, and runs on a six-cylinder engine that is powered by turbo-diesel.
It holds enough fuel to travel for three weeks in it and it is designed to accommodate a maximum of 3 people. You might be shocked once you read just some of the insane things this model contains, for example, satellite connectivity, a bathroom with a rooftop window, several sleeping areas, and an office to name just a few.
4. Windjammer (Forest River)
The RV is 11 feet high and has a length of 35 feet. It is one of the bigger trailer types on the market, offering a lot of space for enjoyment and relaxation. It is very comfortable to travel in and provides benefits such as insulation, cabinets made from high-quality wood, leather furniture, tile flooring, and many more.
5. Predator 6.6 (Hunter RMV)
Once a vehicle used in the army, it was then converted into one suitable for regular people to use. It can hold enough fuel for making an 800-mile long journey and it runs with the help of a six-cylinder engine. Just a few things you can find inside are a queen-sized bed plus an extra bunk, a cooktop, dining area, and many others.
Additionally, it can be powered with solar energy and even offers a system for water purification.
6. Australia Explorer (EarthCruiser)
From a commercial truck to an off-road RV, it is one of the more affordable models on the market. Its tank can take up to 211 gallons of fuel which is enough to make a 2,100-mile trip. It is perfect for almost any terrain and is powered by solar panels.
The Australia Explorer offers a small living space but uses every inch of it efficiently. It provides a queen-sized bed and 2 additional sleeping lofts in case you are not traveling on your own. Up to 5 people can use the sitting area at one time and the RV offers a small kitchen, satellite connectivity, and external cameras as well.
7. Zetros (Mercedes)
The starting point of this recreational vehicle came in the form of a Zetros truck. It runs on diesel and has a huge 600-gallon tank. The interior gives off a more polished look thanks to items such as rare wood walls and fine leather furniture. The model also comes with flat-screen TVs and it can use both solar energy or a generator to run all the appliances.
Conclusion
These are some of the best models on the market and they are some of the most popular ones too. However, if it is something you cannot afford right away, you can always choose to rent and drive around for a shorter amount of time or build your own traveling home from scratch.
In the end, no matter what you decide to do, you will surely be able to feel and experience just how amazing these recreational vehicles are, as well as all the benefits they have to offer.