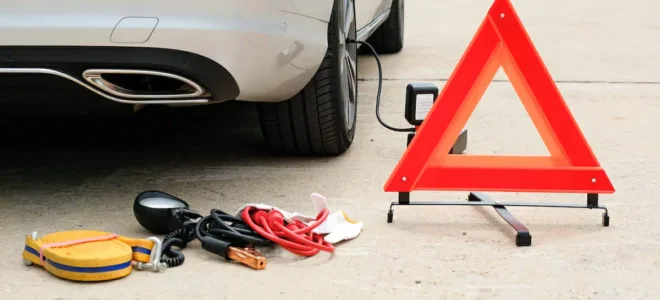 Mishaps can occur anytime and to anyone. Roadside incidents are among the most common emergencies that can happen while you're driving. No matter how experienced you are as a driver or how well-prepared you might be, roadside emergencies can leave you feeling bewildered and may result in casualties or injuries. Therefore, it is crucial to have proper knowledge of what to do when faced with a roadside emergency.
In Maryland, certain areas are statistically more prone to roadside emergencies due to higher traffic volumes and complex road networks. These areas often include major highways, interstates, and urban centers like Baltimore.
While the Maryland State Police and local law enforcement agencies prioritize responding to roadside emergencies to ensure the safety of motorists, it's essential to understand that response times can vary depending on the incident's location and severity. Therefore, knowing how to handle a roadside emergency without exacerbating the situation is of utmost importance.
Today, we'll explore what steps you can take during a roadside emergency to keep yourself safe and minimize further complications.
ASK FOR HELP IMMEDIATELY, AND DO NOT PANIC
During a roadside emergency, you would not want to be stranded on the road for long. Therefore, calling for help is important.
If you are traveling through interstate highways such as Maryland interstate highway, getting stuck on the road would be an absolutely horrifying experience too, when the weather is unpredictable.
In such situations, calling roadside assistance or a Maryland's Leading Towing Company is crucial. It is also important to have their contact information already on your phones so you can easily deal with unforeseeable circumstances.
Roadside emergencies often catch us off guard and can trigger panic. Therefore, it's essential to remain composed and avoid panicking.
Here are a few reasons why staying calm is crucial in such situations:
Most of the time, you're not prepared to handle a roadside incident, and panicking can lead to errors in judgment that hinder your ability to assess the situation accurately.
During these circumstances, maintaining your calm, activating your hazard indicators, and moving to the roadside for safety is paramount.
Feeling anxious is entirely normal, but by keeping your cool and thinking rationally, you can navigate your way through the situation effectively.
GETTING OFF THE ROAD
As soon as you notice that your car has begun to malfunction, make it a priority to exit the road. Aim to reach a safe location where the likelihood of being struck by another vehicle is minimal.
Your first instinct should be to locate a parking lot or an area with good visibility, ensuring that you can easily access the necessary help.
Here are some points to keep in mind:
Avoid relocating your car to blind spots, as doing so can compromise your safety.
Keep your hazard lights turned on to make it easier for roadside assistance to locate you.
Reaching a parking spot might even help you save money on towing services.
Ensure that you don't obstruct traffic and strive to move away from the road as swiftly as possible.
STAY INSIDE YOUR VEHICLES OR NOT
During a roadside emergency, you may have to decide whether you should remain inside your car or exit it. While this choice depends entirely on the circumstances, it is generally advisable to stay inside the vehicle.
Here are some reasons for staying inside the car:
Remaining inside will not only protect you from other vehicles but also from adverse weather conditions.
Quickly exiting the vehicle to inspect the issue with your car could pose a hazard. Always be cautious of traffic before exiting.
If traffic is heavy on the driver's side, consider using the passenger side to exit the car and assess the situation.
If you find yourself stranded in an unfamiliar location, avoid wandering in search of help, as there's a risk of becoming disoriented and unable to find your way back.
KEEP AN EMERGENCY KIT IN THE CAR ALL THE TIME
While you can't predict a roadside emergency, you can certainly prepare for one by keeping an emergency kit with you at all times.
Here's what your emergency kit should include:
A power bank
Disposable batteries
A water supply
A small tool kit
Additionally, it's important to have a first aid kit in your car at all times in case a medical emergency arises. You may also find it helpful to carry a handy book that guides addressing minor car faults.
DO NOT SEEK UNSOLICITED ADVICE
During a roadside emergency, it's important to be cautious about accepting help from strangers. While their offer may seem well-intentioned, it can potentially worsen the situation as they may not be professionals.
Here are some reasons to avoid accepting help from strangers:
Strangers may not have the necessary expertise to resolve the issue effectively.
Accepting assistance from strangers could expose you to scams, potentially resulting in financial losses without resolving the problem.
Unsolicited advice from strangers can lead to unsafe situations, so it's essential to wait for professional roadside assistance to arrive.
BE MINDFUL OF THE SAFETY OF OTHER ROAD USERS
During a roadside emergency, it's crucial to consider the safety of both yourself and others on the road. Taking measures to provide clear signals about your situation can help prevent accidents.
Here are some steps to indicate your situation to others effectively:
Keep your hazard indicators on at all times to alert other drivers that you're experiencing an issue.
Consider using safety cones and reflective flags to create a visible and safe buffer around your vehicle.
In case of low visibility, especially at night, use flashlights or flares to signal distress.
Keeping your vehicle's hood open can also serve as a clear indication to other road users that you're in need of assistance.
These precautions not only protect you but also help ensure the safety of fellow motorists on the road.
CONCLUSION
Roadside emergencies can happen unexpectedly, so it's essential to be well-prepared to handle them. Knowing what to do in such situations can be highly beneficial and can help you avoid unpleasant experiences.
By following the tips mentioned above, you can effectively prepare yourself to handle a roadside emergency and potentially save yourself from a difficult situation. Read what else you could do in the case your car breaks down in the middle of the road.