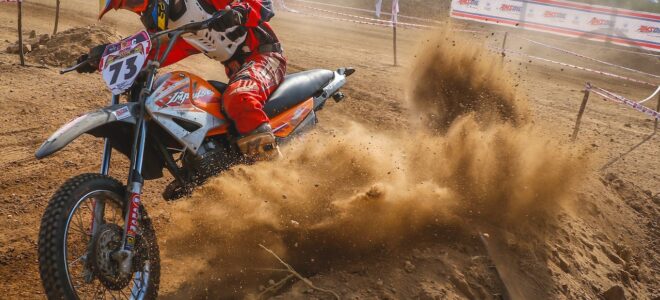 Nothing is more crucial in the world of motocross racing than speed. People who like to use motocross tend to become professional as soon as possible, but everything takes time. There are many things that can help you to become a pro, but it will require determination. If the question is whether it is hard to become a pro, then you must know that you can only become a pro by trying out some of the techniques you need to spend time on so that you can polish your skills.
By using some basic tactics, doing some work, and optimizing your fitness, you can easily outpace your rivals whether you're riding a fancy new bike with all sorts of insane add-ons. You must ensure that you have added the best accessories and that the motocross you buy should be of premium quality. Further, we will talk about some of the tips that you can use to go pro in motocross.
Here Are Some Of The Tips To Go Pro In Motocross:
Let's check out some of the essential tips that can make it easier for you to become a pro in Motocross and ensure that you can do it the right way, enhance your skills, and win several motocross races. You must scroll down to learn more about it in detail.
Start With Thorough Practicing:
You might think it is one of the most general things everybody knows. Still, the main thing is you should know that when you are thinking of becoming a pro, it is essential to keep one thing in your mind many times when you become a good racer, you tend to forget the fact that it is your practice and determination that took you to that position.
Always practice even if you are in good form. Riding is the best exercise because it uses all your muscles. Due to the variety of riding conditions encountered in Motocross, practice and conditioning are essential steps for amateurs to do in order to progress and stay in form for the next event.
Fight Wisely, Not Hardly:
Some motocross riders obsess over who will pass them and when throughout the entire course. When you want to become a pro somewhere, you should realize that you have to do your best, not give much attention to the other racers. Sometimes when you give much importance to them, you tend to panic and might make the wrong decision. This is the reason you must know how you can do your best.
Unless someone is actually on your bumper, you don't need to consider it. Instead, focus your mental attention on maintaining a straight back, a balanced weight, and a throttle-operated hand. You'll stay ahead of the game and only invest that time and effort in defensive driving when it's really necessary. Try this technique out if you want to become a pro easily.
Don't Forget To Take Safety Measures:
A pro rider is the only one who knows how to take care of the future and how they must save their life if they face any injury. You must ensure that you give your body priority even though riding motocross bikes requires you to take the risk, as there are chances of getting injured on the track. A premium quality helmet is the most important thing. If you are looking for a premium helmet, you can contact MX Helmets and learn more about it.
A helmet can absorb the impact of a head injury if you have an accident while riding your two-wheeler. This is why premium quality helmets will protect you while on the race track. Head or brain injuries can be fatal, particularly if you are not wearing a helmet and have exposed yourself. Helmets reduce your chances of suffering from external and internal head trauma, protecting your head and potentially saving your life.
Make Each Turn The First One:
You know that rush of adrenaline you get before the first turn when you give it everything you've got? You must do this at all times. Focus is something that is really important if you are riding a bike like Motocross; you can't miss out on it. Many times people go with the flow, and with every turn they make, they tend to lose the docs, but that is the most crucial time when you must ensure that you are not out of focus as it can cause trouble for you and it can lower your speed and will not let you win. Maintain your focus and momentum as you race around the track.
Consider each turn as if it were the first, and attack with all of your might. Keep your eyes on the track and your mind on your bike so that you have your bike in control and take every step with care and effectively.
First, Take It Slow:
This might sound a little confusing to you, but it is essential for you to know that first, you should know about the land and track where you will use the Motocross. Walking the track is slower than riding your bike. Check out the track by taking a walk so that you know what all techniques or strategies you can use. Even on a slow ride, you'll notice details about the track and its terrain that you might otherwise overlook.
Take the time to walk the track and observe how other riders perform during their races. This way, it becomes easier for you to analyze the whole area and ride your bike accordingly. You might get lucky and find a better line that saves you time and gives you an advantage. All these things are some of the small things that can help you to have a big win.
Conclusion
Now you know that if you have the determination and will practice a lot, nothing can stop you from becoming a pro. You have to know about some of the basic techniques or strategies to help you with it, and this article will work for you as a guide.