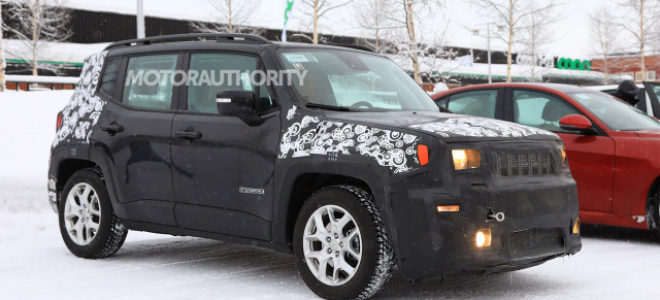 Big things are happening in Toledo. After the debut of Trackhawk performance SUV, and the impending arrival and revival of Wagoneer the FAC Group company still ash time for updates on the rest of their lineup. 2019 Jeep Renegade is on the way, and it is a small facelift of the currently available model. The first prototypes of 2019 Renegade have been spotted testing in the winter conditions.
Price & release date of 2019 Jeep Renegade
The latest iteration of this mid-size SUV is expected to debut later this year. The vehicle will come around as 2019 MY. Pricing details for the upcoming car are unavailable at this time. The current version is priced at $20,00 for its entry-level model. The base version comes completely naked, to say so. If you opt for any additional equipment such as automatic transmission, air conditioning, and touch-screen infotainment system the price will stray into mid-$20,000. Fully loaded Trailhawk and Limited trims will cost you more than $30,000.
Competitors
The prices are fair for what Renegade offers. With those rates that are currently available, it stands toe to toe with its competitors Chevy Trax, Kia Soul, Subaru Crosstrek, Mazda CX-3, and Honda HR-V.
2019 Jeep Renegade Changes
According to motorauthority.com Jeep won't mess with Renegades' funky exterior. The updates will occur both at the front and rear fascia. But, worry not, as the car is only approaching its mid-life cycle the changes will be the only minor. Thanks to the camouflage we can't tell what the exact changes are going to be. More will be known in the upcoming months.
More significant changes will happen on the inside. The central console will be preoccupied with a more prominent infotainment system in the future. The air climate dials will be replaced by the ones that debuted on 2019 Jeep Cherokee.
Powertrain Options
Under the hood, the hood Renegade currently boasts a 2.4-liter unit which is considered to be a bit too noisy for a mid-size SUV. The fans of this vehicle are hoping for a powertrain change which would include adding a 2.0-liter turbo engine. The same mill is currently used by both Cherokee and Wrangler. This engine is what car enthusiast would want, but as it's producing 271 horsepower in Cherokee, it could prove too powerful for 2019 Renegade.
More details on 2019 Jeep Renegade will be available in coming weeks and months so stay tuned.