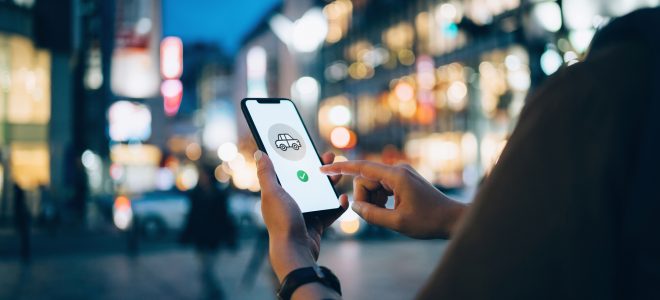 The introduction of rideshare services through Uber, Lyft and other app-based on-demand transportation services have brought safety to the fore for the users of such services. With taxies, you follow one set of safety precautions and now you have to follow another set of precautions. One advantage of app-based services is the use of technology for improving the safety of travelers.
So, without delay, here is our list of 15 safety tips for you when you use rideshare services in your hometown or when you travel out of town:
Social media users swear by feedback. It is a great fillip to safety if you rate the service as honestly as possible. Other users can be guided by your honest feedback and avoid badly rated drivers.
Take your privacy seriously and do not share your personal details with the driver or co-passengers.
Understand the various features of the rideshare app you are using. Each has its own safety features and you must know the features as well as you know the features on your Smartphone.
If you are frequently using rideshare services alone in the night it is safer to share a trip with others. You can deploy the safety features by triggering the appropriate button on your app. Technology does the rest and you are kept in the loop till your co-passengers have reached their destinations.
Crosscheck the vehicle's license plate appearing on your app with the one that has arrived to give you your ride. Check the photo of the driver as well. You can also double check by asking the driver to call out your name. This is important to catch out a scammer.
Seat belt is meant for your safety. So, wear it whether you are sitting in the front or back.
When traveling alone sit in the back and enjoy a chauffeur-driven ride.
Follow ratings and accept a highly rated driver. Typically, most customers give honest ratings.
In case your ride gets into an accident notify Uber and call 911 to help people who are injured because of the accident. If you are injured badly it is advisable to get in touch with attorneys who have experience in ride-share accident claims, such as Rosenfeld Injury Lawyers. They should be able to assist you if your accident is serious, causing you injury.
It is good practice to switch on your GPS on your Smartphone when you start your journey. You can reassure yourself by recognizing the landmarks as you proceed on your journey.
Your rideshare app has an emergency button which can be used to alert 911 (your present location will be flashed) if you find something amiss in your vehicle or surroundings.
If you are a solo traveler, do not wait for the car outside. You can track the car on your app and when it has arrived check if it is the same car and then you can present yourself.
A common feature of rideshares is the right to terminate your ride then and there if you feel unsafe.
You can access Uber's Safety Toolkit by tapping on the shield icon each time you undertake a trip. Study it carefully and use it appropriately whenever you need help.
Always pay using the payment facility on the app. You can leave a tip on the app itself. Beware of a driver who demands cash. You should bring it to the notice of Uber if the driver demands cash.
Whenever you use a rideshare service be aware of all safety tips and all features on the app to make your ride a safe one. Keep yourself updated with the latest safety tips. Be aware of your surroundings and keep alert till you complete your ride. Also, leave an honest feedback.