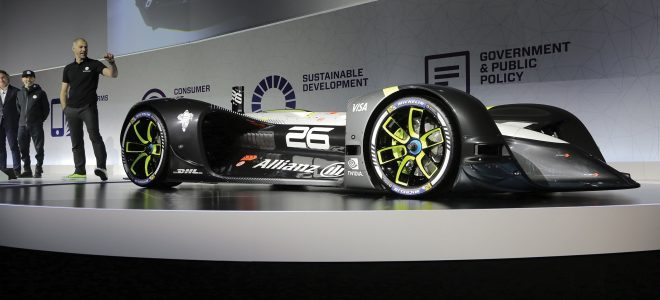 Usually controlled by a computer, autonomous racing cars are considered to be the gifts of technology and are regarded as an evolving sport of the racing ground. Big names such as Ford, Tesla and Mercedes are racing to develop this vehicles in order to keep pace with the rapidly changing consumer world. For example, Ford had recently tripled its investment on autonomous vehicle fleet and is in the process of testing 30 hybrids of Ford Fusion in California, Arizona and Michigan.
It is evitable that driving race vehicle at these high speeds, it becomes really easy to make a mistake for the drivers. It is said that the Indianapolis 500 is hot, stressful, and also after all the prolonged hours of racing, the human drivers actually start to make small mistakes, which can often lead to a deadly crash.
Needless to say, a computerized autonomous racing car will always learn from its mistakes. As long as it doesn't crash, it is expected to get better each time, as the cars will be equipped with sensors that can give you all the required updates and make adjustments accordingly. So, when things are going perfectly right or the car is drifting out to the corner, the car will adjust its speed, steering, trajectory, and also take in consideration about the tyre wear along with checking the amount of fuel. All of these calculations will be done in microseconds and also make the required adjustments perhaps 10, 12, 24 times a second. It can be undoubtedly said that a human driver cannot compete for so long.
When these vehicles are taken off-road, the cars actually get better, stronger, and also faster. The computer hardware is regarded as more robust and can perfectly take the jarring and the beating of any kind. Endurance is never a problem with the autonomous racing cars, till the time the computer hardware doesn't break, the software is not having a virus in it, it is needless to say that a human driver cannot actually compete with this types racing cars.
It is said that the autonomous driving cars will entirely change the world of racing and revolutionise the idea behind it. Without any sort of accessories like dashboard, pedals, steering wheel , or seating, this car does not necessarily need all of these to get the car going. Combining gaming, technology, motorsport and entertainment into one single thing, these vehicles is expected to become the next big thing to create a rave in this world.
It is said that Roborace is considered as the first company which started the world's first motorsports series for a range of driverless cars. The concept of Robocar makes uses of electric propulsion and is operated by connected technology. With the help of real time computing systems and AI technologies, car racing is expected to reach greater heights with this kind discoveries on the way. According to Denis Sverdlov, the CEO of Roborace, the autonomous racing cars will accelerate the development of electric vehicles similar to Formula E cars. The Roborace events will take place prior to the Formula E races and will also make use of the same circuits. This series will feature ten teams and each team will have two driverless cars. It is said that Roborace is much about competition as it is about entertainment. There would be no unnecessary cluttering in the car in order to have a clean and iconic look. This is expected to be a competitive platform for the autonomous driving solutions which are now being developed. So, it can be easily said that Roborace is an open challenge to the scientific and technology focused organisations across the world. It is a great idea to showcase and create a platform for autonomous racing cars.
Many companies like LeaseCar UK have tried their best to create some images of autonomous racing vehicles that are inspired from cars like Bugatti, BMW, Chevrolet, Ferrari, Aston Martin or Nissan. The cars not only look amazing but also give you a clear glimpse of the futuristic vehicles. The only issue that we have to deal with is that autonomous cars are usually controlled by software. So there is always a chance that hackers can get into the software and makes changes in the car's functionality to affect the way it operates. If careful measures are taken in this domain, autonomous racing cars would revolutionise the idea of car racing.