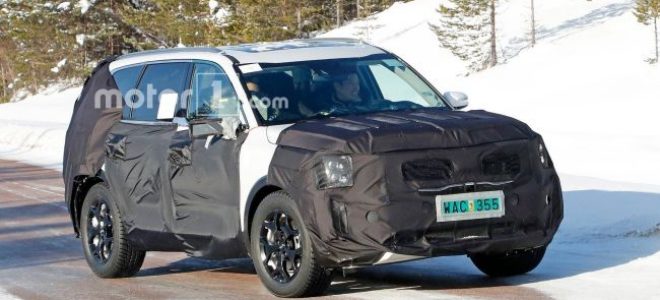 We saw Telluride concept a few months back. Now we have a Kia vehicle which is an SUV that resembles the named idea. This prompted the conclusion that we are actually looking at a 2019 Kia Telluride. After a couple of months of wait, the South Korean carmaker took its new three-row SUV for a ride.
Kia did its best to hide any design details by packing heavy camouflage on top of their new SUV. But despite their efforts, few things were easy to notice. For example, Kia's production version of 2019 Telluride will sport a different set of headlights compared to its concept predecessor. The concept version boasted a horizontally shaped layout of the clusters while the production-ready version which is being tested has vertical ones.
One thing that both models have in common is the grill which won't change. On the side end of the vehicle, you can notice by the shape of camouflage that concept's suicide doors will be abandoned in favor of more classical design.
At the rear, we couldn't conjure up too much, as the camouflage covers most of Telluride's back side. But by the looks of it, it will retain concepts angular taillights.
2019 Telluride Specs
At the moment we can't be sure what 2019 Kia Telluride sports under the hood. The concept version had a plug-in hybrid with a 3.5-liter V-6 that had an output of 400 horsepower. The production will most likely have more units to offer, but we can't be sure in our guesses. The most likely option to find its way onto 2019 Telluride is the 3.3-liter V-6 which has an output of 290hp and 252 lb-ft of torque on Kia's other models (Sorento and Cadenza). The gearbox offered will most likely be an eight-speed automatic.
Release date of 2019 Kia Telluride
Kia executive director Peter Schreyer said in January, during 2018 Detroit Auto Show, that Telluride was green-lit for production. The primary goal is to make 2019 Kia Telluride a premium SUV which would be sold exclusively on the American market. The plans to ship it worldwide are still being considered, with Australian market being preferred destination. One thing is sure when Telluride get's released later this year it won't be sold in Europe. Company officials are suggesting that market there doesn't need another big SUV.
2019 Kia Telluride Price
Considering that production of new 2019 Telluride was confirmed only a few months ago and that we just got our first spy photos the price is almost impossible to determine. We say almost because we are going to try. The current top SUV in Kia lineup is Sorento. This vehicle is priced at $27,000 for the entry-level model. But its price range goes up to over $47,000. Looking at this new Telluride which will offer more premium feel than Sorento at its entry model will most likely command a price in the region of $40,000. With more equipment, packages, and different powertrain options its price will go up to mid-$50,000.