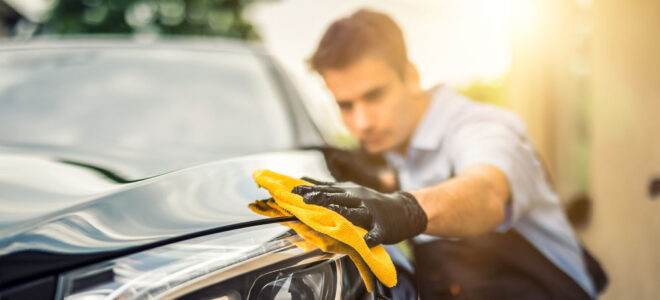 Do you know the difference between a car wash and car detailing and are you aware of what a full detail on a car includes? Most people are confused by these terms and are not sure what to choose when booking a car detailing service. There are so many options to choose from, so it can be quite confusing to find the right thing for yourself. Car detailing goes beyond regular car washing services and allows you to achieve impeccable cleanliness and the appearance of your vehicle. Full detail on a car involves exterior and interior car detailing. Let's discuss this in a little more detail.
The difference between a car wash and car detailing
Although many people mix car washing and car detailing, the truth is that these services are completely different. Car detailing involves a much deeper and more thorough cleaning of the car to achieve flawless cleanliness and a perfect car look. Also, this service does not use an automated cleaning system, as is the case with car washing. Here, experts in this field manually clean various parts of your car to achieve the best possible result.
What does a full detail on a car include
There are two different segments that full detail on a car includes, and those are exterior car detailing and interior car detailing.
Exterior car detailing
Exterior car detailing refers to cleaning, vacuuming, polishing, and restoring car parts that are visible from the outside, such as windows, wheels, tires, and others. This part of the car detailing service ensures that your car looks spotless on the outside. The most common products used here are detergents, degreasers, waxes, polishes, but others can be found, depending on the auto detailing service.
First of all, as part of this part of car detailing, these professionals will deal with car paint. Over time, grease, dust, and other impurities accumulate on the surface of the car, which can lead to paint fading, as well as corrosion, and other damage. Thus, such services not only improve the aesthetics but also prevent the deterioration of the car and impair its functionality.
During a full detail on a car, you can expect that your wheels and tires will be cleaned of stains caused by dust and contaminants. These stains become more and more difficult to clean over time, so it is important that you take care of it on time, as well as that this work is done by experts who will perfectly clean all the dirt. Also, the rubber seal will be applied to the tires, which will be another layer of protection, and will provide them with a nice shiny finish.
Interior car detailing
Interior car detailing, on the other hand, represents all the tasks that a professional in this field perform in order to keep your car refreshed, clean, and aesthetically pleasing from the inside. It involves the use of techniques such as vacuuming or steam cleaning to wipe and clean leather, plastic, vinyl, and other materials that make up the car's interior. Also, your carpets will be vacuumed and shampooed, for the perfect final result. After these services, expect a fragrant and clean car that will be a pleasure to drive.
At https://2020autospa.com/auto-detailing/ you can read more about car detailing car services that will make sure that your vehicle is thoroughly cleaned inside and out and ready for you to enjoy driving it.